Volume 37, No. 4, Winter 2021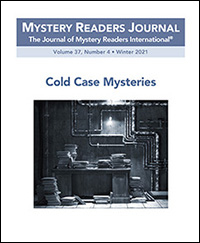 Buy this back issue! Available in hardcopy or as a downloadable PDF.
TABLE OF CONTENTS
ARTICLES
The Warm Heart of the Cold Case by Rona Bell
Chandler's Legacy: A Cold Case That's Still Hot by Sean Day
Just What Is a Cold Case? by Sandra Murphy
Val McDermid's Cold Case Series: Karen Pirie by Chris Stuart
AUTHOR! AUTHOR!
The Lover's Lane Bandit by J. L. Abramo
The Amato Family Murder Mystery by Carmen Amato
Cold Cases and the Human Connection by Nicole Baart
What's the Weight of a Cold Case? by Dr. Charley Barnes
Even If You Can't Solve a Cold Case, You Can Make Up an Ending… by R.G. Belsky
Cold Cases and Ancient History? by Albert Bell
Heating Up a Cozy Series With a Cold Case by Leslie Budewitz
Cold Cases and Deep Waters by Martin Edwards
True Crime and the Fiction Writer by Eve Elliot
Cold Case in a Cold Land by R.E. Donald
Old Crimes that Tie into New Ones by Kathy Lynn Emerson
Solving Cold Cases in Fiction by Laurie Fagen
Blowing the Dust Off by Kate Fellowes
Why I Hate Serial Killers by Eve Fisher
Help Me! by Russell Hill
A Lifetime Ago by Marni Graff
The Adventures of Writing a Cold Case Cozy by Nancy Jarvis
What A Cold Case Taught Me About Mysteries by Stephanie Kane
The Coldest Cases Are Solved (Incorrectly) by Ron Katz
A Snitch in Time by James L'Etoile
Out of the Past: When Cold Cases Meet Old Books by Jeffrey J. Mariotte
Writing a Mystery with a History by Marilyn Levinson
Striking Range: Tracking the Elusive Cold Case Killer by Margaret Mizushima
Fact + Fiction: Personal Experience and True Crime Inspire a Mystery Novel by Marcy McCreary
Cylinder Seals, the Bronze Age Rubber Stamp by M.A. Monnin
Why Cold Cases? by Amy Myers
Genealogy and Cold Cases: A Perfect Mystery Match by S. C. Perkins
A Network of Friends by Neil S. Plakcy
Three Questions by Lissa Marie Redmond
Whatever Happened to Baby Alice Spenser? by Martha Reed
The Marketville Mysteries: Cold Case Cozies by Judy Penz Sheluk
Life After the Badge by Danny R. Smith
I Leave a Trail of Whack-Jobs in My Wake by Gabrielle St. George
Who Killed Jane Stanford? A Gilded Age Tale of Murder, Deceit, Spirits, and the Birth of a University by Richard White
Covering a Cold Case in Facts and Fiction by Andrew Welsh-Huggins
Too Cold to Touch? Poe and the Girl Behind the Wall by Bruce Wetterau
Cold Case, Aloha Style by Steve Zettler
COLUMNS
Mystery in Retrospect: Reviews by Lesa Holstine, Roberta Rood, Lucinda Surber, Alison McMahan
Children's Hour: Cold Cases by Gay Toltl Kinman
Crime Seen: Cases That Come In From the Cold by Kate Derie
Real Cold Cases by Cathy Pickens
Just the Facts: Frank Hamer—Cold Case Detective by Jim Doherty
From the Editor's Desk by Janet A. Rudolph
---
Cold Cases and Deep Waters
by Martin Edwards
I can't quite believe it, but nearly twenty years have passed since a very good editor invited me to come up with a concept for a new crime series with a rural backdrop. At that time, no British crime novelist had set a series in the beautiful Lake District, now a UNESCO world heritage site. I've always loved the Lakes, not only because of the stunning landscape, but also because of the area's fascinating literary associations and extraordinarily rich history. I decided to build on this idea of history. Why not focus my storylines on crimes of the past and the way that they influence events in the here and now? From this concept, it was a small step to pitch a series of cold case mysteries.
At that time, cold case work was in its infancy in British policing. There wasn't a dedicated cold case team within the Cumbria Constabulary, the regional force responsible for policing the Lake District. So I decided to create one, headed by a woman detective, DCI Hannah Scarlett.
I'd written a series set in Liverpool with a male protagonist, the lawyer and amateur detective Harry Devlin. This time I wanted to create a relationship between two main characters which would develop over time. The other lead was Daniel Kind, who has moved to the Lakes from Oxford after the tragic death of the woman he loved. Daniel is a historian, so he—like Hannah—has a professional interest in delving into events of the past.
In the first book, The Coffin Trail, which was shortlisted for the Theakston's prize for best crime novel of the year, Daniel and Hannah are in relationships with other people. However, there is a connection between them. Hannah's first boss and mentor was Daniel's estranged father, Ben Kind. Ben died before the series begins, but the complicated relationships that Hannah and Daniel had with him cast shadows over their growing attachment to each other. Again, I wanted to explore the influence that the past exerts over what we do now.
So the notion of a cold case, where an unsolved crime is re-examined years later, is reflected thematically in the books. That strong but often mysterious link between yesterday and today drives the development of characters, individual storylines, and the series as a whole. When Hannah sets out to solve a cold case puzzle, she is often reminded that we can't escape the consequences of what has gone on before. Because she looks at what happened with fresh eyes, she sees things that weren't obvious previously. Her overriding focus is on the human dimension—understanding why people behave in the way they do. The passage of time can make it easier to reveal truth. And that, for me, is at the heart of the appeal of cold case mysteries. They aren't simply about plumbing the deep and murky waters of the past; they concern navigating a course through the present.
---
Martin Edwards is the author of twenty crime novels as well as non-fiction books such as The Golden Age of Murder. He has edited more than forty crime anthologies and also Howdunit, a masterclass in crime writing by members of the Detection Club. He received the CWA Diamond Dagger in 2020 and his other awards include an Edgar, Agatha, and two Macavitys.
---
A Snitch in Time
by James L'Etoile
Any investigator will tell you the first forty-eight hours in a homicide investigation are critical. The leads developed during those golden hours often prove pivotal in bringing the case to a successful closure. What about homicide investigations lingering unsolved for months, or even years later?
Recently, the nation watched the unmasking of the Golden State Killer through advances in familial DNA technology, coupled with a bit of investigative sleight of hand with genealogy websites and digging discarded coffee cups from a trash can. Michelle McNamara's account of the Golden State Killer's crimes, in I'll be Gone in the Dark, reinforces the importance of using the most advanced, modern technology to solve complex cases where the trail has gone cold.
Often, cold cases are solved without the bells and whistles of the latest and greatest scientific breakthrough. Those case closures don't get the splashy media coverage. A break in the case can happen at any time. You must be able to hear it when it happens. Instead of DNA and lab trickery, it comes down to old-fashion walking, listening, and talking.
In prison, there's no shortage of information. Information is a commodity, bought and sold, bargained for, and traded to gain power. Especially when prison gangs are involved in the transaction.
I often write stories where prison gangs exert some influence from behind bars. In At What Cost, Bury The Past, and most recently, Black Label (Level Best Books, July 2021), the plotlines involve criminal influences from inside prison playing a role in the story. There is a culture of extortion and violence contained within the walls few people witness.
I worked in the California prison system for almost three decades. One assignment led to solving a homicide that lingered for over a year with no investigative thread left to pull. It was, for all intent, a cold case.
On June 8, 1985, Correctional Sergeant Hal Burchfield was murdered at San Quentin State Prison. During inmate count, the Sergeant walked up to the second tier in Carson Section and was fatally stabbed by a spear thrust out from one of the cells. The lights on the tier were broken, sending the first four cells into darkness where his attacker lay in waiting. The prison's misguided policy of housing gang members in adjacent cells would come back to haunt them.
The initial investigation quickly uncovered members of a prison gang, The Black Guerilla Family (BGF), an African-American prison gang espousing violent revolutionary action with a history of assaults on staff, were behind the murder. The gang members housed on the tier where the murder took place weren't talking. Informing on a fellow gang member would result in that inmate being marked for death. A year passed without progress on the investigation. The case grew cold.
The inmates initially suspected of involvement were Andre Johnson, Lawrence Woodard, Jarvis Masters, Rufus Willis, and others. They were rehoused after the murder, and one of them, Willis, came to my unit, the Violence Control Unit at Folsom's new maximum-security prison, the California State Prison—Sacramento.
Two of the BGF's founding members were housed in my unit at the time. After the attack on Sergeant Burchfield, the Department of Corrections cracked down on prison gang activity. Validated members of the BGF, Mexican Mafia, and Aryan Brotherhood were sent into more restrictive Security Housing Units (Pelican Bay was about to open). The BGF members in my unit were getting significant pressure from the other gangs blaming the San Quentin upstarts for disrupting their criminal enterprises.
Willis was assigned a cell with a known BGF enforcer who glared out the cell window at the new arrival from San Quentin. Willis stopped in his tracks and told me he needed to talk with me. He claimed he couldn't go in the cell, or he'd be killed.
I pulled him from the cell block and took him to my office for a private conversation. He wanted a transfer to another prison away from the BGF. I told him I needed something from him to warrant anything other than putting him back in the cell with the BGF enforcer. Faced with a dim and short future with the gang, Willis began to tell a story about what happened that night in June 1985.
Johnson, Woodard, Masters, and Willis were among the BGF members who planned the attack on Sergeant Burchfield. A piece of metal was cut from a bed frame in one cell and passed to Willis, who admitted beginning to sharpen the spear tip. Willis passed the weapon to Masters, who finished sharpening the metal before passing it to Johnson in the adjoining cell.
While the Sergeant walked down the tier, Johnson kept in the shadows and called the Sergeant to the cell front. Johnson thrust a spear fashioned from a rolled-up magazine with the metal tip into the Sergeant's chest, killing him.
I met with the Marin County District Attorney providing him with the newly developed confession. It was the crack needed to solve this cold case. Willis plead guilty to his role in the murder. While prison snitches aren't generally believed to be the most honest and upright citizens, it was enough to get three convictions for first-degree murder. Johnson and Woodard were sentenced to life without the possibility of parole, and Masters was sentenced to death.
Cold cases don't always need a fancy laboratory or advanced science. Sometimes, it takes a little listening and knowing how to develop human intelligence.
---
James L'Etoile uses his 29 years behind bars as an influence in his novels, short stories, and screenplays. He is a former associate warden in a maximum-security prison, a hostage negotiator, facility captain, and director of California's state parole system. He has been nominated for the Silver Falchion for Best Procedural Mystery, and the Bill Crider Award for short fiction. Look for Dead Drop in the summer of 2022 from Level Best Books.
---
An Old San Francisco Mystery Is Unburied, and Inspiration Strikes
by Ann Parker
The initial spark for The Secret in the Wall, the upcoming book in my Silver Rush historical mystery series, came from a San Francisco cold case with roots in the 19th century.
I first read about this case in 2016, in a San Francisco Chronicle article that bore the headline "Little Girl, Rose Still in Hand, Found in Coffin Beneath SF Home." The article reported on the then-recent unearthing of an elaborate casket beneath a concrete slab of a home in the Lone Mountain neighborhood of San Francisco's Richmond District. The well-preserved body of the girl was visible through the glass upper portion of the airtight glass-and-bronze casket. She had long blond hair, wore a white lace dress, had a cross of flowers on her chest, and looked to be about three years old. No one knew who she was or how she came to be there. The house's owner was told by the medical examiner's office that since the remains had been found on private property now belonging to her, she had to deal with the coffin and its contents.
This strange event and the mystery at its core lay buried in the back of my mind until late 2019, when it morphed into the opening scenes of The Secret in the Wall, in which my protagonist Inez Stannert finds a desiccated body not in the floor of a house but in a wall. From there, a whole host of questions arise. Who is the deceased? When did he die? Why? And why the heck is he in the wall to begin with? On a whim (and because Inez's ward, 13-year-old Antonia Gizzi, had developed a fixation on Treasure Island way back in A Dying Note, the first book of the San Francisco cycle of my Silver Rush series) I gave my mystery corpse a glass eye and a bag of gold. Little did I know where all that would lead me!
As for the inspiration for my story, the little girl in the glass coffin, I'll not keep you in suspense. Soon after the discovery, a team of researchers and amateur sleuths sprang into action to uncover the girl's identity. The first clue to solving this (very) cold case involved the casket's location. In the 1860s, long before the Lone Mountain area was developed, it was home to San Francisco's many cemeteries. By 1900, these cemeteries were "full up," and the city's supervisors passed an ordinance prohibiting burials within city limits. A bit more than a decade later, the city announced that the bodies had to be removed from the cemeteries, which were now sitting on prime real estate. All in all, roughly 150,000 bodies were retrieved and re-interred in Colma, the "city of the dead" south of San Francisco. The casket holding the girl had apparently been overlooked in the mass migration, and housing eventually erected above her resting place.
Old records and old-fashioned sleuthing led the team to realize the girl had been buried in the Odd Fellows cemetery, which was active from 1865 to about 1890. After overlaying an 1865 cemetery map onto a map of the present-day neighborhood, researchers narrowed her identity to two possibilities. Amateur genealogists searched records of births, marriages, properties, deaths, and censuses to track down possible descendants from the various families. About a year after the initial discovery, thanks to present-day DNA testing, the girl was identified and her history uncovered: Edith Howard Cook, daughter of a prominent San Francisco family, died on October 13, 1876, just a month shy of her third birthday. Her funeral record listed the cause of death as "marasmus," a form of severe malnutrition that can be caused by any number of infectious diseases. To read more about this case and how it was solved, check this 2017 Los Angeles Times article. If you want more information about the fascinating archaeo-forensic investigation involved, follow the scientific journal links in Edith's Wikipedia entry.
As for the identity of the man buried in the wall in The Secret in the Wall, you'll just have to read the book when it comes out in February 2022!
---
Ann Parker is a science writer by day and fiction writer at night. Her Silver Rush historical mystery series, published by Poisoned Pen Press, an imprint of Sourcebooks, is set in 1880s in Colorado and, more recently, in "The Paris of the West," San Francisco, California. The Secret in the Wall, eighth in the series, is scheduled for release February 2022.
Buy this back issue! Available in hardcopy or as a downloadable PDF.