Volume 33, No. 4, Winter 2017-18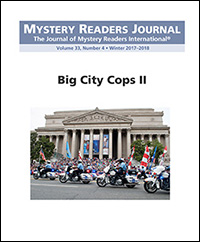 Buy this back issue! Available in hardcopy or as a downloadable PDF.
TABLE OF CONTENTS
Cop Writers: John Wainwright by Paul Bishop
Wambaugh's Big City Cops by John Patrick Lang
Clip, Clop—Ten-Foot Cops by Elise Warner
AUTHOR! AUTHOR!
My Cop Is a Good Cop by Alvin Abram
The Truth Is Coming: Lie Catchers in the Big City by Paul Bishop
New York City Cops—No More Mean Streets by Casey Barrett
My Heroes Have Always Been Lawmen by Michael A. Black
What is Found by Trudy Nan Boyce
How Technology Is Affecting Big City Cops by Rex Burns
When Everyone Else Runs the Other Way by Tracy Clark
From Fact to Fiction by Miles Corwin
Policing the Peoples' Republic of Berzerkeley by Jim Doherty
Finding the Cops and Killers Within by Barbara Fradkin
"You Belong to the City" by Brian Freeman
Proof of Procedure by J.A. Jance
Of Nicetown and the Devil's Pocket by Richard Montanari
A Police Officer's Trauma by Radine Trees Nehring
Bringing the Silver Rush (Further) West—San Francisco's Officers in Blue in 1881 by Ann Parker
The PI and the Cop: A Marriage Made in Heaven? by Clive Rosengren
The Sketch Artist by Jonathan Santlofer
Big City Perspective, a Greek Island Life by Jeffrey Siger
Where Ideas Come From by Brian Thiem
Realism by Mark Zubro
COLUMNS
Mystery in Retrospect: Reviews by Craig Sisterson, L.J. Roberts, Maria Kelson, Lesa Holstine
The Big Tens From the Big Towns—Part Two by Jim Doherty
The Children's Hour: Big City Cops by Gay Toltl Kinman
Just the Facts: Out of the End of a Pen by Jim Doherty
Crime Seen: What To Watch Where by Kate Derie
Real-Life Big City Cops by Cathy Pickens
From the Editor's Desk by Janet Rudolph
---
Proof of Procedure
by J.A. Jance
Proof of Life, J.P. Beaumont #22, hits the shelves this month. Beau is definitely a big city cop. I'm not.
Back in the early '80s, when I was writing the first Beaumont book, Until Proven Guilty, it was clear to me that there was far too much I didn't know about cops in general and about Seattle PD police procedures in particular. In one scene I had a visitor show up at police headquarters in what was then the Public Safety Building. What I needed to know was whether or not visitors to the building were required to wear visitors' badges.
Looking for an answer, I went searching in the phone book. Yes, this was so long ago that phone books were still an important resource. Listed under the heading of Seattle PD, I found the words Public Information Officer. Telling myself I was public, I picked up the phone and dialed the number. My call was answered by a guy named Officer Gary Flynn. When I relayed my question, he allowed as how visitors were not required to wear badges, but he thought they probably should be. (Obviously, in the intervening 30-plus years, that situation has changed, and visitor badges are now required almost everywhere.)
I took that nugget of information and went back to writing. When I finished the manuscript, I called Gary again and asked if he would be willing to read it. When he agreed, I trudged down to the Public Safety Building and delivered the manuscript to him in person. In the process, I discovered that the building was known for having one of the slowest elevators in the city. In later books, when I wove that one telling detail into the background of my stories, it was easy for people to come to the erroneous conclusion that J.A. Jance had once been a cop.
When I wrote that first book, I still had my day job of selling life insurance. I also had two school-aged children. My writing time was from 4 am, when I woke up, until 7 am, when I awakened my kids and got them ready for school and me ready for work. When the kids went to bed at eight o'clock in the evening, so did I. (You could say I had zero social life.)
Shortly after I delivered the manuscript to Gary, he called me about nine o'clock one night, waking me out of a sound sleep. I'll never forget the words he said to me on the phone, "You made me cry!" I could barely believe it. The sad story I had told of Beau losing the love of his life, Anne Corley, had brought tears to the eyes of a guy who was a real cop! For a first time author, I don't think I could have asked for a more meaningful review.
Over the next few years and several books, whenever I had questions, Gary Flynn had the answers. He helped me get inside the Crime Lab where I learned about alternate light sources, the collection of fingerprints, and AFIS—the automated fingerprint identification system. When I needed to talk to a member of the gang squad, Gary set it up. Ditto for talking to homicide detectives. Because I had Gary Flynn's stamp of approval, people were open and generous with their time and information.
Time passed. Eventually Gary retired, but he stayed in my Christmas card list. He moved first to Centralia and later to Prescott, Arizona, where I encountered him again when he was volunteering for the friends of the local library. I'm sorry to say Gary passed away suddenly, several years ago, but here's one thing I can tell you. My fictional big city cop, J.P. Beaumont, wouldn't be nearly the guy he is if it hadn't been for that real life big city cop—a kind and generous Gary Flynn.
Thank you, Gary. I miss you.
---
J.A. Jance, the author of more than fifty mysteries, was born in South Dakota and raised in Arizona.  She and her husband divide their time between homes in Tucson, Arizona, and Bellevue, Washington.
---
Big City Perspective, a Greek Island Life
by Jeffrey Siger
I grew up in a big city: Pittsburgh. I went to law school in a bigger city: Boston. I set out on a legal career in the biggest US city of all: New York. Big cities have played a significant role in my life.
That might make it hard to understand why a dozen years ago I decided to give up my thriving career as a name partner in my own New York City law firm, and move to the Aegean Greek island of Mykonos to write about contemporary Greek intrigues touching upon the country's ancient roots. The answer, though, is really quite simple. I'd had it with litigating international and domestic scandals, and decided to move on to the world of mystery-thriller writing, where fictional outcomes somehow almost always emerged as far more uplifting than those of real life.
I chose Mykonos as the venue for my first book because I knew it so well. I'd visited there every year for decades, and long wanted to write a story about its people, their rich cultural history and enormously colorful present, but I didn't want to write about pelicans, flowers, or summer Greek tavernas. I wanted to write about action and mystery.
I wanted to come up with a dynamite story that would allow me to make Mykonos a character in the book, one that would show all the things I loved about it. Something that would take the reader behind the scenes to see the Mykonos I knew, something tourists, even off-island Greeks never saw. So, I decided to drop a serial killer into the midst of my island paradise. That's how Murder in Mykonos came to be, as a "Mamma Mia setting for a No Country For Old Men story." It also went on to be the #1 best selling English-language book in Greece, and made the New York Times' radar list of hardcover best sellers.
With that success, my debut novel turned into a series, and I realized that in order for my protagonist, Andreas Kaldis, to do his best work I needed a bigger stage than an island of twelve thousand year-round residents. Andreas is an Athenian-born second-generation cop, and a politically incorrect, honest observer of his times, who endures and grows despite all that life and the powerful throw at him and his beloved country. Perhaps most significant, for purposes of my stories, is his easy manner of unearthing and expressing the truth about the most serious issues, political and otherwise, confronting his nation.
So, for the second book in the series, Assassins of Athens, it was back to Athens for Andreas, this time as Chief Inspector of the Greek National Police Force's Special Crimes Division, headquartered at Central Police Headquarters in the heart of Athens, and charged with investigating matters of national concern or potential corruption.
That broad mandate has led to nine books chronicling disparate elements of Greek society, and a mosaic of what it means to be Greek, all held together by the unvarnished perspective of Andreas Kaldis. His approach at times puts him at odds with the politically powerful, but it's also drawn praise from the New York Times, calling the series, "thoughtful police procedurals set in picturesque but not untroubled Greek locales."
Together with Andreas and his crew, we've explored the relationships of Greeks and their communities, Greeks and their government, Greeks and their church, Greeks and immigrants, Greeks and their families, Greeks and their financial crises, Greeks and criminal enterprises, Greeks and their military, and in my new book (#9, An Aegean April, coming in January 2018), Greeks and the impact of the continuing worldwide refugee crisis.
I guess what intrigues me most about what I do is that I never know where the next new idea might come from, or what political and other contacts I'll need in order to get the inside story on whatever element of Greek life is emerging as the focus of the new book. My writing life has me creating characters with a fictional base in Athens, but it tethers me there too, for much of what I need in creating new adventures can only be drawn from that city of three million.
Bottom line: Though I live on an island of villagers, I'm at play in my mind on big city streets. And I like that arrangement just fine.
---
Jeffrey Siger writes the internationally acclaimed Chief Inspector Andreas Kaldis series—nominated a couple of years back as LCC's Best Mystery in a Foreign Setting, and in 2016 for a Barry Award for Best Novel. He's served time as Adjunct Professor of English at Washington & Jefferson College teaching mystery writing, and is a past Chair of Bouchercon's National Board. Blogging at murderiseverywhere.blogspot.com
Buy this back issue! Available in hardcopy or as a downloadable PDF.