Volume 33, No. 3, Fall 2017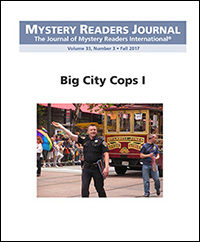 Buy this back issue! Available in hardcopy or as a downloadable PDF.
TABLE OF CONTENTS
Let's Be Careful Out There… Wherever the Hell We Are by Jim Doherty
The Crossing by Michael Connelly: A Book Group Discussion by Roberta Rood
AUTHOR! AUTHOR!
Cops These Days Aren't What They Used To Be by Rennie Airth
Big City Cops: Two Takes by Rona Bell and Sean McCluskey
Cops and Writers by Paul Bishop
A Good Fall(en) Guy by Craig Faustus Buck
Chinatown Crime Time by Henry Chang
My Heroes by Tim Chapman
Cleveland's "Untouchable" Top Cop by Max Allan Collins
Why I Turned My Back on Big City Cops by Garry Disher
When Big City Cops Have Four Paws by Sara Driscoll
The Changing Face of Nashville by J.T. Ellison
Are You Feeling Safe? by Lyndsay Faye
Becoming Lou in La-La-Land by Rachel Howzell Hall
Crime Fighter Turned Crime Writer by Isabella Maldonado
Bronson: a Literary Crush by L.C. Hayden
You Can Take the Big City Cop Out of the City, But… by Adrian Magson
Lt. Sigrid Harald, NYPD by Margaret Maron
Limitations of Big City Cops by Neil Plakcy
The Stories I Tell by Lisa Marie Redmond
Cold Case Prosecution by Brian Thiem
Lizzie Borden: Murder—and Mistakes? by Christine A. Verstraete
COLUMNS
Mystery in Retrospect: Reviews by Lesa Holstine, Michael Mayo, L.J. Roberts, Craig Sisterson
The Big Tens From the Big Towns—Part One by Jim Doherty
Just the Facts: Frank Hamer—Houston Heat by Jim Doherty
The Children's Hour: Big City Cops by Gay Toltl Kinman
In Short: Big City Cops by Marvin Lachman
Crime Seen: Metropolice by Kate Derie
From the Editor's Desk by Janet Rudolph
---
Cops These Days Aren't What They Used To Be
by Rennie Airth
We're all familiar with city cops by now, at least the way they're portrayed in countless TV dramas. In fact there's almost such a thing as an Identicop. He's divorced and disillusioned, at odds with his ex, fraying around the edges and invariably at odds with his superiors. He's never slow to cut corners regardless of the consequences, even if it involves bending the law, and to top it all he drinks more than is good for him (and in the old days he would have smoked like a chimney). Still, we've grown to love him.
The cops I write about though are a different breed. For one thing, they would most of them be dead by now. The first of the Madden series, River of Darkness, is set in 1923, and although I left intervals between the books that followed—I wanted to see the characters grow older and change—I've still only got up to the early post-war years, when any coppers active at the time would either be in old age homes by now or pushing up daisies.
So how to get a fix on them? There's not much in the way of information available, at least none that I've been able to track down. London's Metropolitan Police were founded in 1829 by the then-Home Secretary Robert Peel, who among other things lent his name to the recruits he enrolled, who were known informally first as "peelers" and later as "bobbies," an appellation that has stuck. It wasn't until 1842 that a Detective Branch was created, with a staff of only eight, and it took a further 36 years before this body morphed into the Criminal Investigation Department we're familiar with today.
One interesting detail I came across was that by the early 20th century, the Met, as it became known, was doing most of its recruiting in the West Country. At that time Londoners were shunned on the grounds that they were too independent-minded, too fly and street-wise. What the powers that be were after were young men from the sticks who could be moulded into the kind of police officers who would follow orders without question. And since plainclothes detectives were all drawn from the same well—namely the uniformed branch—these would have been the kind of men you'd expect to find not only patrolling the streets of the capital but also investigating crime.
Anyone writing about England at that time—I'm thinking mainly of the years between the wars—can't avoid the British obsession with class. Although the First World War had dented it somewhat, it was still firmly established in the British psyche, as any reading of the fiction of the time will show. And my cops would have to have been part of all that. They would mostly have been either of working class origin, or with that British attachment to fine gradations, lower middle class. Madden, whose father was a tenant farmer, comes from this latter grouping, though the fact that he won a scholarship to a grammar school would have pushed him up the ladder somewhat. Helen, whom he marries, is upper class—or if you want to quibble, upper middle—but very much at ease in the company of aristocrats and part of "county" society, which says all that would be needed to place her to anyone versed in the subject. Their marriage would have been a rarity.
As for the others, Chief Inspector Sinclair is firmly middle-class and probably had an excellent education—Scotland being famous for providing one, both then and now. Billy and Lily Poole are both working-class—and Londoners, an indication that by the time they joined the force the prejudice against hiring locals had fallen away.
How these cops talked to one another—and to the public—is a matter of conjecture, which is a pity, since conversation is one of the best ways a writer has of placing his characters in historical time. They don't figure much in the crime fiction of the day, popular though it was. It was the age of the gentleman detective, with Agatha Christie's Hercule Poirot, Margery Allingham's Albert Campion and Ngaio Marsh's Roderick Alleyn leading the pack; not forgetting Dorothy L. Sayers' Lord Peter Wimsey, a wonderfully improbable creation and perhaps the least likely detective ever to take fictional form. Of the ordinary working copper at that time we hear virtually nothing, and sad to say, too often they only appear in order to be held up to ridicule.
At the time we first meet Madden and Sinclair criminal investigation is still at a primitive stage. The "black bag" Sinclair brings with him to the first crime scene contains gloves, tweezers, bottles and envelopes, which pretty well sum up the forensic requirements of the day. In fact, as I made clear in the book, forensic evidence was not held in high regard by either judges or juries. Fingerprinting and ballistics had been part of police procedure for some time and blood types had been identified, but we're still a long way from "hair and fibres," never mind DNA, and more than ten years had still to pass before Scotland Yard set up its own laboratory, or Metlab as it came to be called.
As for their domestic life, we have to look at the society of the day and the standards by which it lived. I see most of my cops as being married with few if any getting divorced, no matter what stresses the might be under at home. They were most of them heavy smokers, and while they imbibed very little in the way of hard liquor, they more than made up for it with pints of bitter, the preferred choice of their class. They were most likely cynical in the way cops are—Joe Grace is an example of that—but not unduly brutal. As I say, they were drawn from the society they lived in and the world has grown a great deal more savage and bloody since those days. Together with the bobby on the beat—something of a vanishing breed now—they formed part of the backbone of a country that was largely law-abiding, and with the exception of the criminal classes, probably enjoyed a measure of respect from the general population; which is far less true today.
And finally, let's turn to the "isms." There are no black coppers in my stories for the simple reason that there were very few coloured policemen in Britain at the time. Immigration on a large scale from the West Indies, and from India and Pakistan, didn't occur until after the war, and though numbers of the new arrivals have now joined the ranks of law enforcement, the problem of racism, particularly in the Met, remains a live one. And unfortunately the same is true of women. I use Lily Poole, an exceptionally talented young officer, as an example of the kind of obstacles members of her sex have met. Nor is this necessarily a thing of the past. I happen to be acquainted with a young woman, exceptionally well educated, who amazed her family by deciding to make a career in the police. She joined the Met in London and went to work, as all new recruits do, in the uniformed branch, a necessary prelude to joining the CID, which she had hoped to do. For a time she enjoyed the life, patrolling the streets of London in a Panda, dealing with small-scale crime, but after two years on the job she resigned from the force. Asked why, she gave a one-word answer: sexism. There was no getting away from it, she felt.
Then again the current Commissioner of the Metropolitan Police, the top cop in Britain, just happens to be a woman. Her name is Cressida Dick. So perhaps there is still hope.
---
Rennie Airth is the author of River of Darkness, winner of the Grand Prix de Littérature Policière in France and nominated for Edgar, Anthony and Macavity awards. He has written five mysteries in the Madden series with a sixth in progress.
---
Chinatown Crime Time
by Henry Chang
Modern police departments in big cities have learned to diversify their ranks to better police the various minority and immigrant communities they serve, but I remember a time when the NYPD recruited token black cops, a few Hispanic cops, and virtually no Asian cops. Skyrocketing minority and ethnic crime rates changed that paradigm.
After the explosion of Chinatown crime, the NYPD recruited American-Chinese officers, mostly for undercover work. These "Uncos" were instructed to infiltrate the violent gangs and the organized crime triads. Doled out to Public Morals and Anti-Crime Divisions, Chinese undercover officers were deployed to local gambling dens, brothels and massage parlors, contraband operations, and Chinatown after-hours businesses. Among their "C.I."s or Confidential Informants were car service workers, parolees, hard core gamblers, and interstate casino-bound bus drivers. They plumbed the depths of the Chinatown immigrant demimonde.
The size and spread of Chinese communities across America has increased at light speed, long since the turn of the 20th century when the last survivors of the Chinese "Bachelor Society" were expected to die out. America, finally rid of the Chinese experience.
Didn't happen.
Instead, the Bachelors hung on until World War II, fought for War Brides, visas, and US citizenships. Immigration quotas opened up and kickstarted Chinese-America as we know it today. In 2017, I'm certain that police departments in Vancouver, Seattle, San Francisco, Los Angeles, San Diego, Houston, Miami, Boston, Philadelphia, Washington, Chicago, among other big cities, all count American-Chinese or Asian-American officers among their rank and file.
Big city cops understand that diversity in the ranks, cops who look like the people they're policing, is an asset. Diversity also opens up the door to corruption, some say—cops get paid off, get compromised via blackmail, etc—but without diverse resources, law enforcement would not be able to penetrate Chinese organized crime societies which have existed for thousands of years.
I grew up in New York City's Chinatown during its most violent times, when vicious street gangs ruled the neighborhood. Their colorful tags have become part of Chinatown street lore; the Black Eagles, the Flying Dragons, Ghost Shadows, the Wah Ching, the White Tigers. The city's tabloids ran sensational headlines over stereotypical stories but never told the true tales of Chinese people who lived and worked in the community, people like my mother and father, who worked in Chinatown's two main industries—the sweatshops and the restaurants.
I wanted to tell these stories of the voiceless, depicting the Chinese immigrant struggle for a small piece of the American Dream, against a backdrop of violent crime and heartless greed. My books, starting with Chinatown Beat (2006), are all set in Chinatown featuring American-Chinese NYPD Detective Jack Yu.
In Chinatown Beat, Detective Yu has obtained a hardship transfer to the Fifth Precinct, his old neighborhood, just to be closer to his dying Pa. Jack knows every manner of Chinese crime here will come his way, and realizes that the Department will use him vigorously against his own people, especially those who will try to corrupt him. Along the way he is reunited with Chinatown ex-blood brother Lucky Louie, who has become dailo, leader of a powerful street gang.
The other four books—Year of the Dog (2008), Red Jade (2010), Death Money (2014), and Lucky (2017)—continue the investigations that take Detective Yu to murderous West Coast Chinatowns and back to New York City mayhem. In Year of the Dog, a Chinese take-out delivery boy is brutally murdered in the housing projects, and Chinatown blood brother Lucky Louie arrives at an inauspicious end. In Red Jade, Jack follows a lead to the West Coast where the scent of a deadly femme fatale lingers.
An unidentified Chinese body is found floating in the Harlem River in Death Money. Psycho assault? Hate crime, or something more sinister? In Lucky, Chinatown gang leader Lucky Louie awakens from his coma and wreaks havoc in his revenge comeback saga.
Chinatown Beat is where I first shine a light.
Welcome to da 'hood.
---
Henry Chang is a New Yawker, a native son of Chinatown and the Lower East Side. He continues to reside in the Chinatown area. Please visit him at Chinatowntrilogy.com and sohopress.com/books/chinatown-beat
Are You Feeling Safe?
by Lyndsay Faye
I grew up in Longview, Washington, a mill town in Southwest Washington State with stunning foliage, a bridge overpass for squirrels called the Nutty Narrows, and the occasional sulfurous reek of paper processing. It was as seemingly safe as any small community—my brother and I roamed feral, riding our bikes, sailing our Lego figures down the stream out back so we could rescue them again, and squashing pennies on the industrial railroad tracks. For the most part, as kids, my brother and I didn't think about crime at all.
This was before I discovered The Adventures of Sherlock Holmes, and was instantly obsessed.
Sherlock Holmes, of course, was no cow town operator. He might not have been a cop, but his beat was London, one of the most venerable and storied capitals of the Western world. London was a cesspool, a wonderland, a mecca. It was the epicenter of colonial might. Holmes was running with the big dogs, and he was the Alpha, no mistake. I yearned to peer through the fog in a city of millions, destroy an evil professor's villainous syndicate, be the one to wield Dr. Watson's gun.
So when I was eleven, about a year after I'd read every syllable to do with Sir Arthur Conan Doyle's Great Detective, I obtained a blank notebook—I had no money, mind, I must have convinced my parents this was for a legitimate science experiment—and decided I was going to Solve Crime. I didn't know anything about Solving Crime, mind, other than what I'd read in Doyle's immortal classics—I didn't even know any local policemen, or what sort of infractions they investigated. I just knew that my personal hero smoked a pipe (that was out), played the violin (I already had a piano), and Solved Crime (heroically, of course). Obviously the only option was for me to do the same. But first, and here you can really witness my keenly logical thought process at work, I had to find a crime to solve.
I was very methodical about this. I took the blank notebook and I started walking every afternoon to the Fred Meyer grocery store across the street in order to record the license plate numbers of the cars in the parking lot. I also recorded other salient details:
White Honda. Front left fender scratch. "Save a Logger, Eat a Spotted Owl" bumper sticker. McDonald's cups in back seat. Needs wash.
And so forth. Now, you might be wondering how I imagined I was going to Solve Crime this way, but after poring over devil hounds and red-headed leagues, I was convinced: a crime was going to happen. And when it did, I would go to the police with my immaculate record of cars parked while their owners bought eggs and steak and detergent and so forth, and I would solve it.
I leave it to the reader to guess whether or not this plan panned out the way I wanted it to. Fourteen years later, my husband Gabriel and I moved to New York City—Washington Heights to be precise—and when we did, we fielded a lot of questions from the Longview crowd.
"Aren't you scared of how much crime there is?"
"What if you get mugged?"
"It's too dangerous—how will you have any sort of peace of mind living there?"
It was a tabula rasa for us. What would happen? We were both from the same small town, we had both lived for eight years in the San Francisco Bay area, but Manhattan? That's a leap for anyone who's not from Tokyo. At the time we moved here in 2005, however, New York's crime scene had entirely changed from the perception outsiders still maintained. The Bronx wasn't burning. The subways were safe and air conditioned. You could walk in Central Park at night and emerge with both, count 'em both, kidneys.
So we decided not to worry. We would watch our wallets, mind our business, be cautious at night. After a year or two, our families and friends would not merely be mollified, but impressed by our adopted city's stalwart adherence to ethics. They would picture the very sewer rats as model citizens who spent nights dutifully eliminating litter.
Within the first two weeks of moving to the Heights, a man a few blocks north of us stabbed a baby. Nothing whatsoever about this would be remotely anecdotal, except for the fact the baby was completely, perfectly, entirely fine because it was stabbed outside New York Presbyterian Hospital and was rushed inside, and not stabbed very effectively, and the man was instantly taken into custody and returned to a mental ward. Still, when our families eagerly asked, "How's New York—are you feeling safe?" the answer eluded us.
"Well," I pointed out to my husband, "seeing as we're not babies… "
"We're probably still safe," he agreed. "Let's just tell them that."
It wasn't until years later I wrote my first big city cop crime novel: The Gods of Gotham, starring copper Timothy Wilde, which was nominated for an Edgar Award and rather quickly bloomed into a trilogy. It's set in 1845, the year of the NYPD's inception, and by that time, I was absolutely riveted by what it means to be a cop in a major metropolis. Present day New York isn't a vast, unknowable concrete jungle; it's a series of small neighborhoods and communities, all edged up against each other, and 19th-century Gotham was much the same. Big city police solve mammoth crimes, it's true. They take down mafia rings, drug cartels, eliminate bomb threats, pull people out of rubble during disasters both conventional and too vast and tragic for a nation to contemplate.
Those sorts of operations don't often happen in small towns. But every encounter I've ever personally had with the NYPD was to do with a violation or a mishap that could occur anywhere. They knocked at the door down the hall from my apartment to stop a domestic dispute. They directed traffic in grotesquely chaotic intersections I was trying to navigate. They staked out the "chronic pain management" clinic on the ground floor of my building that everyone and their sainted aunt knew was just a front to sell oxycontin.
We have serious issues with some police and police procedures here, the same as everywhere: stop and frisk, corruption, that one time my friend Mark was heading home with a bag of cat litter and was thrown to the pavement by five officers for the unsavory crime of Walking While Black. But like Timothy Wilde did in 1845, New York cops today, for the most part, try to keep people safe—before a crime has happened, and long before a civilian has been damaged beyond all hope of repair. It's the routine task of trying to keep the peace as best they can.
One of my favorite passages in the Sherlock Holmes mysteries has to do with his horror of the small town versus the big city. Traveling by train with his friend, idealistic Watson praises the beauty of the countryside, to which Holmes replies that it always fills him with a certain horror. Holmes continues,
"The pressure of public opinion can do in the town what the law cannot accomplish. There is no lane so vile that the scream of a tortured child, or the thud of a drunkard's blow, does not beget sympathy and indignation among the neighbors… But look at these lonely houses, each in its own fields, filled for the most part with poor ignorant folk who know little of the law. Think of the deeds of hellish cruelty, the hidden wickedness that may go on, year in, year out, in such places, and none the wiser."
Fantastic. It's the Sherlock Holmes version of, "In space, no one can hear you scream."
I still know little about the day-to-day lives of the police in Longview, Washington. I do know that on August 17th of 2017, a Cowlitz County deputy seized $20,000 worth of heroin and meth from a couple trespassing on railway property. I know that no less than five real estate blogs (I stopped looking after that) listed Longview as one of the top ten most dangerous cities in the state. I know that in 2015, the FBI listed Longview as number five on its list of cities with the highest violent crime rate increase.
Turns out big cities and small towns aren't so different after all.
Crime happens everywhere. And big city cops certainly deal with a higher volume, due to a higher concentration of people. But community happens everywhere too, and the police are a part of that—learning who's sinister, discovering who's connected, protecting the vulnerable, just the way Timothy Wilde would have done in 1845.
---
Lyndsay Faye is the internationally bestselling, twice Edgar Award-nominated author of Jane Steele, the Timothy Wilde trilogy, and many Sherlock Holmes pastiches, most recently The Whole Art of Detection (March 2017). She lives in Queens with her husband and cats.
Buy this back issue! Available in hardcopy or as a downloadable PDF.