Volume 30, No. 3, Fall 2014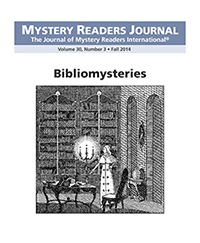 Buy this back issue! Available in hardcopy or as a downloadable PDF.
TABLE OF CONTENTS
ARTICLES
"There Was No Beginning" by M. A. Adler
A Life Lived with Books by Robin Agnew
Limiting a Research Topic, or What To Do About Thursday Next? by Mary P. (Mollie) Freier
Elizabeth Peters's Bibliophile, Jacqueline Kirby by Mimosa Summers Stephenson
AUTHOR! AUTHOR!
Writing the Book Collector Mysteries, or, Did I Just Die and Go to Book Heaven? by Victoria Abbott (Victoria Maffini and Mary Jane Maffini)
On Killing Booksellers by Donna Andrews
Biblio-Burgling by Lawrence Block
Through a Glass Fondly by Ali Brandon
My Cards on the Table by Eric Brown
Guidebook to Murder—The Bookstore Connection by Lynn Cahoon
Mistaken Identity by Laura Caldwell
Selling Murder: Crime and the Popular Press in 17th-Century England by Susanna Calkins
Reimagining History by Kate Carlisle
Haunted by Books by Cleo Coyle (Alice Alfonsi and Marc Cerasini)
Readaholics in Heaven by Laura Di Silverio
A Novel Idea! by Lucy Arlington (Susan Furlong)
Why a Culinary Bookshop? by Daryl Wood Gerber
The Poet and the Private Eye by Rob Gittins
Librarians Can Always Figure It Out by Karen Harper
A Conference, Books, and Bronson by L. C. Hayden
Brought to Book by Tim Heald
A Cautionary Tale about Book Groups by Maggie King
"The Good Know Nothing," and the Story Behind the Story by Ken Kuhlken
Literary Discussions in My Novels by Marilyn Levinson
Brain-Bangers by Peter Lovesey
The Librarian, the Witch, and the Spell Book by Joyce and Jim Lavene
On Becoming a (Fictional) Librarian by Con Lehane
My Amateur Sleuths' Mystery Library by Ed Lynskey
Reading for the Answers: Murder at the University by Janice MacDonald
The Epistolary Novel—Yay! Or Nay? by Lise McClendon
Look, There Are Books in My Book by Terrie Farley Moran
Bibliomystery Geek by Otto Penzler
People of the Book by Neil Plakcy
Everyone Loves a Conspiracy Theory by Judith Rock
Book Wrap by Sheila Simonson
Writing "See Also Murder" by Larry D. Sweazy
The Book Shelving Workout by Elaine Viets
Between the Lines by E. J. Wagner
Books and Book Lovers Who Run Amok by Sally Wright
COLUMNS
Mystery in Retrospect: Reviews by Lesa Holstine, Gay Toltl Kinman, L.J. Roberts
Crossword: If Books Could Kill by Verna Suit
Children's Hour: Bibliomysteries by Gay Toltl Kinman
True Crime: Books on Trial by Cathy Pickens
Crime Seen: Murder, They Wrote by Kate Derie
In Short: Mysteries About Books by Marvin Lachman
From the Editor's Desk by Janet Rudolph
---
On Killing Booksellers
by Donna Andrews
I killed off a bookseller in Owls Well That Ends Well, my sixth book.
It felt good.
I hasten to add that I don't often harbor ill feelings against booksellers. Along with librarians, they're among my favorite people in the world.
Except for… let's call him Gordon-you-thief. Not his real name, but that's what I called him in my book.
It all happened years ago, long before I started writing the Meg Langslow series. I'd recently discovered one of my favorite Golden Age mystery writers, R. Austin Freeman, creator of the Dr. Thorndyke series. This was before anyone had begun to rerelease his books as trade paperbacks. It was at least a decade before online booksellers like AbeBooks came into being and made filling the gaps in one's bookshelves easier. In fact, it was probably before I even had an email account or Internet access. Back then, in the Dark Ages, finding a out-of-print book meant making regular treks to all the local used book stores to rummage through their dusty shelves for treasures.
Including the store owned by Gordon-you-thief.
Gordon specialized in mystery, fantasy, and science fiction. I found some of my first few Thorndykes in his shop—faded, dusty hardbacks, with or without dust jackets, prices penciled on the flyleaf. Usually in the ten to twenty dollar range. I snapped them up, read them with glee, and went out looking for more.
I began to notice that the prices were creeping up. Instead of ten to twenty dollars they were rising to thirty, forty, even fifty. A bit pricy for someone only a few years out of college. I conferred with a friend who was also collecting things Gordon tended to have. The prices weren't just creeping up, they were soaring skyward. Was it because we'd snapped up the easier-to-find volumes by our idols and were getting into the rarer ones? Or was it because Gordon knew we wanted them? We suspected the latter.
That's when my friend and I began calling him Gordon-you-thief.
The last straw came when I ran into Gordon at the Vassar Book Sale. For fifty-one years, from 1949 to 1999, the annual book sale organized by the Vassar Club of Washington, DC, was both a major source of scholarship funds for the college and a highlight of the local bibliophile's year. By the time I discovered it, the sale was held in a huge space in the Washington Convention Center.
I was pushing my way through the crowds, probably trying to make my way from the mystery section to the science fiction and fantasy section, when Gordon popped into view.
"I found something on the dollar table that you're going to want when you see it in the store," he said, by way of a greeting. At least that's the way I remember it. Gordon didn't waste much time on small talk. I can't remember what I said, but I'm sure I was polite.
A week or two later I was in the store, definitely curious to see what treasures Gordon had found at the sale. And sure enough, there in the mystery section was a Thorndyke book that hadn't been there before.
I pulled it off the shelf, noted with pleasure its good condition, and flipped to the flyleaf to see what Gordon wanted for it.
$150.
Something in me snapped. But very quietly. I pulled out a sheet of paper from my purse, pretended to consult it, and then shrugged.
"Already got that," I muttered.
I didn't already have it. It was one of the few of Freeman's Thorndyke books I didn't own by that time. And maybe it was worth $150. In fact, it probably was. But knowing he'd found it on the dollar table, I just couldn't buy it.
I knew the life of a used bookseller was a rather precarious one. I wasn't ungrateful for all the wonderful books I'd found at Gordon's store. I had great respect for someone whose knowledge of his trade allowed him to spot a hidden gem on the dollar table, something he could sell in his store for a more than a hundred times what he'd paid for it.
But did he have to rub that dollar table in my face? I knew every time I looked at that book, I wouldn't see a book I love. I'd see Gordon smirking at his coup.
I stopped going to Gordon's store so much. At first, I figured I was allowing some time for the Freeman market to cool off. Then I got out of the habit of going. There were other used bookstores. And other authors. And eventually AbeBooks, and the used book dealers at mystery conventions.
But the whole incident still rankled. So in 2004, when I was working on Owls Well That Ends Well, which is set at a giant yard sale, I was casting about for a suitable murder victim. I didn't have to look far.
"Gordon," I said.
He was a perfect fit. I gave my Freeman experience to one of Meg's husband Michael's fellow faculty members. I was sure I could think up other horrible things Gordon could have done to other people in my fictional town of Caerphilly. I consulted a few booksellers to make sure I had my bibliographic facts straight. Tom and Enid Schantz helped me figure out which rare Freeman book would make the best McGuffin—The Uttermost Farthing, in case you're curious.
And when in the course of my research I told Maggie Mason about my encounter with Gordon, to my astonishment, she recognized him immediately. With her permission, I added her into the book as a bookseller shopping the yard sale, and incorporated one of her experiences with the real life Gordon into the book's plot. An excerpt, in which Meg is talking to Maggie:
"I take it you weren't fond of Gordon-you-thief," I said.
"Gordon-you-thief!" she exclaimed. "That's perfect."
"You've bought books from him, too?"
"Competed with him, actually," she said. "I'm a bookseller. Used to go on the occasional booking expedition with him, until I found out what he was like. Do you know what he did to me?"
She stopped peering at the books and turned to me.
"We were visiting a couple of used book stores—the kind where they don't really know what's valuable, and you can pick up something for a few bucks that's worth much more. In the first one, he told me the parking meter was about to run out, but he could use some more time—so how about if he fed the meter another hour's worth of quarters, and then after that hour we could go on to the next store, a mile or two away. But the minute we walked into the second store, the owner said, 'Gordon, what's wrong—did you forget something? You just left a couple of minutes ago.'"
"Sneaky," I said, shaking my head.
"That was the last time I went booking with him."
Of course, in addition to changing his name, I changed nearly everything else about the real life Gordon. My character doesn't look like the real Gordon, and I made him both an antique dealer and a rare bookseller. I gave my Gordon a disgruntled ex-wife—I have no idea about the real Gordon's marital status. I changed everything I could. But I kept those skyrocketing prices, and his inability to refrain from boasting where he'd found his latest treasure.
Strange to say, ever since killing off Gordon in Owls Well That Ends Well, I've felt much more mellow about his real life counterpart. That's why we mystery writers are so fond of saying, "Don't get even—just kill them early in your next book."
---
Donna Andrews is the author of twenty-two mystery novels, including eighteen in the Meg Langslow series from Minotaur. Her most recent books are The Good, the Bad, and the Emus (July 2014) and The Nightingale Before Christmas (October 2014). She blogs with the Femmes Fatales, and when not writing she can probably be found in her garden, taking a picture of whatever flowers haven't yet been eaten by the deer.
---
Brain-Bangers
by Peter Lovesey
When Otto Penzler, the owner of the Mysterious Bookshop, emailed last year inviting me to write a bibliomystery, the term was new to me. "I realize this is a somewhat specific parameter for a story, creating a substantial challenge," Otto went on in a rather alarming way. He was publishing a series of bibliomysteries and a number of authors I admire had already risen to the challenge, among them Ken Bruen, Anne Perry, Jeffery Deaver, Loren D. Estleman, Laura Lippman, Andrew Taylor, John Connolly, Mickey Spillane and Max Allan Collins. I didn't know whether to be terrified or honored. Otto and I go back a long way—longer than either of us would care to reveal—so I didn't want to turn him down. Fortunately he wasn't asking for a full novel, but a short story of 8000 words or more to be published in a limited edition as a small book.
By happy timing I was about to embark on a tour of US bookstores publicising my latest: a perfect opportunity to get an insight into the bookselling business. Better still, I now had a project to while away the hours in airport waiting areas and during flights. So I signed up. Out of it eventually came Remaindered, the story of a bookstore in jeopardy. Robert Ripple, the owner of Precious Finds, is found dead, apparently of a heart attack, hunched over a carton of Agatha Christie first editions. Closure for Robert, but will it also mean closure for the much-loved shop? And was Robert murdered? My little book was published under the Mysterious Bookshop imprint in hard and soft cover in 2014.
It dawned on me later, when I got down to writing my next novel, that I was at work on another bibliomystery. In The Stone Wife, the curmudgeonly Peter Diamond tangles with Geoffrey Chaucer's Wife of Bath, from The Canterbury Tales. It was written in the stars that at some point in his career, the policeman from the city of Bath would get involved with Chaucer's most famous creation. I just had to get it on paper. The wife of my title is a stone carving offered for sale in an auction where a determined bidder is murdered in full view of everyone. For Diamond, who is not a literary man, but was forced to read Chaucer at school, this requires a crash course in the Canterbury Tales from his long-term lover, Paloma. Soon he is arguing with university lecturers and local historians about Chaucer's life and work. And in a strange way, the Wife begins to control events and turns Diamond into a victim.
Now I think about it, Diamond is a bibliomystery veteran. The fourteen books of the series have regularly featured writers and books. One of the joys of my life—I'll spare you the others—is digging out trivia I know I can use. The first of the series, The Last Detective, had a sub-plot involving Jane Austen's aunt, Jane Perrott, who was arrested and imprisoned for shoplifting—and it really happened. The Vault was about a professor who had learned that Mary Shelley wrote Frankenstein while living in a rented apartment within a few yards of Bath Abbey. In Skeleton Hill, the literary figure is less well known. William Beckford, the writer of the Gothic novel Vathek, was a brilliant 18th-century eccentric who made his home above Bath, on Lansdown. His architectural folly known as Beckford's Tower is central to the plot.
Of all the books, Bloodhounds has the strongest claim to bibliomysterydom. In 1992 I was invited to speak to a Bristol University extra-mural course on novels of mystery and detection. They met on Tuesday mornings in the crypt of St Michael's, a huge 19th-century church in the centre of Bath. I was glad it was a morning event; I would have hesitated about going down into that crypt after dark. But there were no cobwebs, bats or bones. Not even a coffin. The place had been cleaned, carpeted and made into a pleasant meeting room. Even so, the idea of discussing mysteries in a crypt was crying out to be used.
So the Bloodhounds of Bath announced themselves in my imagination; Polly, the Chair; Miss Chilmark, who adored Umberto Eco; Rupert, who preferred James Ellroy and Andrew Vachss; Sid, who hid, but was an expert on locked-room mysteries; Milo, a Golden Age aficionado; Jessica, the fan of female private eyes; and the new member, Shirley-Ann, who reads them a Stanley Ellin short story. Reporting their fevered discussions was a joy. "Darling, if ever I've met a group of potential murderers anywhere, it's the Bloodhounds," one of the members announces. Inevitably a real murder is committed and they become the suspects in a genuine locked-room mystery.
Bloodhounds picked up awards in 1996: the Macavity, the Barry and the Silver Dagger. The New York Times called it "a real brain-banger."
In the years since, I have from time to time met people who sidle up and say, "I was one of the original Bloodhounds who heard you speak in the crypt." Then there's usually a pause, followed by: "Do you ever use real people in your novels?"
"Never," is the answer I give.
---
Peter Lovesey received the Strand Magazine Critics Lifetime Achievement Award at a party in New York in July. His latest book is The Stone Wife, the fourteenth in the Peter Diamond series.
Buy this back issue! Available in hardcopy or as a downloadable PDF.