Volume 21, No. 3, Fall 2005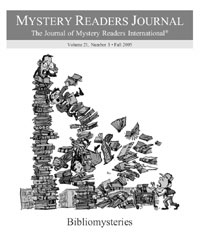 Buy this back issue! Available as a downloadable PDF.
TABLE OF CONTENTS
The Professor and the Detective by Rosemary Bowler
It's Academic by Katherine Welsh
BibliobyMurder: When Life Imitates Art by Cathy Pickens
BibliobyBurglar by Randall Hicks
Bibliomysteries at Simmons College by Candy Schwartz
AUTHOR! AUTHOR!
My Best Friend, Claire Gulliver by Gayle Wigglesworth
Secrets Beneath the Surface by Anne White
Reel Writer, Not Real Writer by Robert Weibezahl
Working in a Bookstore for Book Lore by Elaine Viets
There's No Place Like Books by Lev Raphael
Lit-loving Chick ISO City Magazine — Goal: LTR or Murder by Linda Peterson
The Booksellers of Istanbul by Barbara Nadel
R.R. Did It in the Library by Camille Minichino
Bibliomysteries by a Bibliophile by D.R. Meredith
Book Pusher: My Life in and Out of Fiction by Molly MacRae
Bibliomysteries from an Antiquarian Bookshop by Marianne Macdonald
Yes, I Would Call That Compulsive by Richard A. Lupoff
Life and Libraries by Ron Lovell
The Book Case, or, How I Came to Write a Bibliophile Mystery by Josh Lanyon
Molly and Me by Rochelle Krich
Reality Publishing by Sharolett Koenig
Docketful of Poesy by Diana Killian
The Reassurance of Research by Susan Kandel
Ghosts in the Library by Jane Jakeman
A Single Step by Carolyn Hart
The Tantalising Odours of Books by Ann Granger
Researching The Man with the Iron-On Badge by Lee Goldberg
Between the Lines of Bibliomysteries by R. Barri Flowers
The Lake District Bibliomysteries by Martin Edwards
Walking the Library Line by Jo Dereske
One for the Books, Or, Why I Am Not Guy Mallon by John Daniel
Small Town Secrets by Shirley Damsgaard
Booked for a Hanging by Bill Crider
Call Me Junior by Mat Coward
Lust! Love! The World at Your Feet! Why Libraries Are the Sexiest Places on Earth by Dana Cameron
A Case for Forensic Librarians by Alex Brett
MARCed by Destiny by Deborah Adams
COLUMNS
Mystery in Retrospect: Reviews by Carol Harper, Ed Lynskey, Mary Helen Becker
In Short: Stories About Stories by Marvin Lachman
The Children's Hour: Bibliomysteries by Gay Toltl Kinman
Dorothy L. Sayers: Mistress of the Bibliomystery by Philip Scowcroft
MRI Mayhem by Janet A. Rudolph
Letters to the Editor
From the Editor's Desk by Janet A. Rudolph
---
Working in a Bookstore for Book Lore
by Elaine Viets (Fort Lauderdale, Florida)
"I'm looking for a book," the woman said. "I can't remember the name. I don't know the author. But the cover was blue."
I winced the first time I heard those words as a bookseller. How often had I asked for a book in that same vague way? I'd say something like, "It was a mystery, it had 'death' in the title, and I think the author was interviewed on NPR."
Now I was on the other side of the counter, trying to answer this impossible request. To research my second Dead-End Job mystery, Murder Between the Covers, I worked at a chain bookstore in South Florida. That question plays a major part in my book.
I write the Dead-End Job series. My character, Helen Hawthorne, and I work a different low-paying job for each book. I've been everything from a dress-shop clerk to a telemarketer. Bookselling was the one minimum-wage job I'd do again. It's a useful profession in a world that has too many useless ones. We don't need another overpriced dress shop. We can definitely do without telemarketers. But I loved selling books. I liked their smell, their feel, their colorful covers neatly lined up on the shelves, promising order and intelligence. It was fun finding a book that someone really needed. It was literary matchmaking.
Is working in a bookstore really a dead-end job? It was when I was behind the cash register. I was terrible. I was the slowest clerk in the system, even if I did get a twenty-five-cent raise for being a "team player." Most customers were amazingly patient with my fumblings at the cash register. Of course, there were some exceptions.
One burly man wanted to exchange a paperback. At our store, the manager had to type her code in the register to approve any exchange. She was busy with two other crises. I kept calling on the intercom: "Manager to the front. Manager to the front."
Meanwhile, the paperback guy was yelling at me. His face was red from screaming, and he pounded the counter with a meaty fist. I kept saying, "I'm sorry, sir. I'm sorry, sir. I can't do this without the manager's approval."
The line behind him grew longer. I could see the other customers were restless and upset. The manager wasn't coming. The paperback man shrieked, "You're an idiot."
Finally, the woman in line behind Old Yeller said, "I hate it when people leave home without taking their medication."
The next woman said, "Rude people stink."
Soon everyone in line was talking about how nasty he was. By the time the harried manager arrived and punched in her code, the paperback man was beet red. He took his book and slunk off.
One customer patted my hand and said, "Honey, you hang in there. You're doing a good job."
I loved that scene so much, I put it in my bookstore novel. Clerk abuse is a common problem in retail. But there are considerate customers, and believe me, we appreciate them.
There are also some strange customers, especially in South Florida. A pair of witches bought a book of spells at our store. I wondered about that. I don't know about you, but I wouldn't buy spells in a suburban bookshop. What could you do—make enchanted door wreaths?
When I rang up the witches' book, I hit the wrong key. The register jammed. Another bookseller, Jeremy, tried to help me and we double-jammed my register. The witches frowned and played with their pentagrams.
"If they turn me into a frog, it's your fault," I told Jeremy.
"Don't worry," he said. "I know some witches who can undo spells."
He wasn't kidding.
Then there was the man with the black beard and eyes like twin pools of tar. He came up to my counter and said, "I want to return this."
The book was called How to Cast Out Devils. I was afraid to ask why he was returning it. I didn't know which scared me more: If the book worked—or if it didn't.
Bookstores attract semi-permanent residents who are nearly impossible to cast out. One bookstore mystery was a dignified older man who came every morning at nine and stayed until we closed at 11 p.m. He always wore a shiny suit and skinny black tie. He brought a carefully wrapped sandwich, drank free water from the café, and read books in the living room. When his monthly Social Security check arrived, he bought one paperback.
His quiet presence kept the teens who haunted the living room section from getting too rowdy. I suspected the bookstore was his version of a gentlemen's club. But I never found out where or how he lived. He became the basis for Mr. Davies in Murder Between the Covers.
During the summer, groups of teenagers would show up at eleven in the morning and stay until the bookstore closed twelve hours later. They camped out in the corners, sprawled on the chairs, or spent long hours in the café on their computers and cell phones. They paid for their lattes with hundred-dollar bills. They were well-dressed and relatively quiet, but I wondered: Where did these lost children get that kind of money? Weren't they supposed to be home for dinner? Didn't their parents care where they were all day?
Bookstores were a magnet for abandoned children. At our store, parents would drop off little kids and shop elsewhere for hours. Our manager found a four-year-old wandering around the children's section. "Mommy's shopping," was all we could learn.
After repeated in-store announcements failed to produce a parent, our manager called the police, who took the child into protective custody and made sure she was fed and cared for. When the mother showed up nearly three hours later, she was furious at the store's "interference."
"I didn't abandon my child," she said. "I left her here because it was safe."
Alas, bookstores are not safe. We caught a pedophile hanging out by the Spider-Man comics. A young bookseller spotted "a weird guy with his zipper open." The police removed the man, but told us that he haunted the local libraries and bookstores. He moved from bookshop to library branch, serving short sentences and being released to start the cycle again. A librarian told me that incidents of pedophiles in libraries go back to at least the 1930s.
I put that creepy character in Murder Between the Covers, where he came to a satisfying end in fiction, if not in real life.
How much was the staff of my imaginary Page Turners bookshop like the people working in a real bookstore?
My boss was nothing like the vile Page Turner III. She was well-read and well-liked by her employees. But several stores swore that the gay bookseller, Brad, worked in their magazine department.
In my book, Brad suffered from a hopeless love for a young Coast Guardsman and an unending battle against magazine insert cards. Those white postage-paid cards covered bookstore floors like snow. No matter how many times a day we picked them up, there were always more on the floor.
One day, Brad had enough and devised his revenge. He collected a huge stack of the cards and dropped them in the mail. He didn't fill out the cards. "If the magazines want to hear from me, well, they will," he said. "But they'll pay for the privilege."
I've heard that other booksellers now follow Brad's practice.
People ask, "Why didn't you just interview booksellers?"
Unless you've been on your feet eight hours and have the varicose veins to prove it, you don't understand bookselling. Until your back hurts from hauling books, you're not a bookseller.
Working in a bookstore is hard labor. Hardcovers weigh a pound or more. Hauling them around the store is like moving paving stones.
When customers ask, "Why isn't someone waiting on me?" I can now answer that question. The booksellers are running around, putting away books that customers have left all over the store. Every day, the average chain store has to reshelve several hundred books and magazines.
The one question I could never answer was why the Kama Sutra always wound up in the pregnancy section.
At the bookstore, we also saw authors—the important, the self-important, and the aspiring. One New York Times bestseller hit on me with this line, "I have my own plane."
"I hate to fly," I said.
Saddest of all were the self-published authors. They would come in as if they were John Grisham. "I've written a book," they'd said. "I want a signing."
We had to tell them what their publishers wouldn't: Most chains do not permit signings by self-published writers.
My character Melanie Deveraux DuShayne and her POD book, Love and Murder Forever—A Mysterious Romance or Romantic Mystery was a composite based on the self-published authors I encountered.
Like everyone who loves books, there are days when I wonder if anyone reads any more. But I have one bookstore memory that always cheers me up.
Two boys came up to my cash register. One was about eight, the other around twelve years old. The eight-year-old had a copy of The Adventures of Captain Underpants. If you're not familiar with that series, eight-year-old boys love it. It's full of bathroom jokes. Parents hate it. Grandparents buy for their grandchildren to irritate their proper sons and daughters.
The eight-year-old put the book on the counter along with a crumpled ten. This was clearly his allowance money. I said to the twelve-year-old, "Are you a Captain Underpants fan?"
"That's for kids," he said. "Ever hear of Steinbeck?"
"Yes," I said.
"Ever read The Grapes of Wrath?" he said.
"Yes."
"Steinbeck rules," he said.
Steinbeck rules. I think about that on bad days. That is the future: Steinbeck rules.
---
Elaine Viets' fifth Dead-End Job novel, Murder Unleashed, will be in hardcover from Signet in May 2006. The Josie Marcus Mystery Shopper series, Dying in Style, debuts October 2005. Elaine won an Agatha Award for Best Short Story.
---
The Reassurance of Research
by Susan Kandel (Los Angeles, California)
Some days, I really do wake up smiling. I've got the biggest scam in the world going. In my novels, the main character, Cece Caruso, is a biographer of dead mystery writers, which means I am obliged to read mysteries in the course of writing my own. And since every writer is a reader first and foremost, this means I get to indulge a great love while earning my paycheck. You've got to admit, it's genius.
So far, Cece and I have tackled Erle Stanley Gardner, Carolyn Keene, and Dashiell Hammett. I am working on my fourth mystery now, in which Cece spends her days researching the life of Agatha Christie, she of the two billion books sold (sort of like McDonald's, as my older daughter has sagely remarked). This means I must do the same.
For about two to three months now, I have been lying on my bed/couch/floor/vaguely mildewed garden chaise and reading about Hercule Poirot, Miss Marple, Tommy and Tuppence (I recommend The Secret Adversary, which I'd never even heard of), not to mention poring over the many biographies and books of criticism about the Queen of Crime. I have also been eating vast quantities of candy, which I am convinced keeps the creative juices flowing. In the course of my research, the plot tends to suggest itself.
In the case of my first novel, I Dreamed I Married Perry Mason, I pitched the mystery around the fact that Erle Stanley Gardner practiced law in the sleepy town of Ventura, California, which I learned was built on the oil business. While researching Not a Girl Detective, I found out that Russell Tandy, the illustrator of the original Nancy Drew dust jackets from the 1930s, was an old drinking buddy of Salvador Dali's, so I created a mystery that stemmed from that relationship. Sam Spade in The Green Room, which will be out in the summer of 2006, features a femme fatale in the Brigid O'Shaughnessy mold, and is set against the backdrop of the movie business (present and past), which many feel exacerbated Hammett's real-life downward spiral (The Thin Man puts a fine gloss on the desperation). So far, with Miss Marple Is Undead, I am focusing upon Agatha Christie's mysterious 11-day disappearance, in December of 1926, which has never been fully explained.
I find research extremely reassuring. It combats the terror of the blank page. When you have a body of material or texts to work with, you always have a place to start. I think structuring my mysteries around other books and other writers' lives was what gave me the confidence to try my hand at fiction in the first place. I come out of an academic background, and for 15 years worked as an art critic and historian, so research comes very naturally to me. It is hardly an exaggeration to say that books have always been central to my life, both professionally and personally.
It's a strange thing. I used to be more particular about my books. Not that I was ever someone who organized them alphabetically, or by subject matter. But I did pride myself on ownership. And quantity. Each one was a sort of talisman to me, from Erica Jong's Fear of Flying (which I can still remember my mother finding in my room and carrying out to the trash between two fingers—I retrieved it without her knowing); to the Susan Sontag books with little chew marks at the corners (from my senior year in college when I was writing my thesis on Sontag and my suite-mate had a contraband bunny); to the Simone de Beauvoir novels in the original French I bought (and made my way through!) at the behest of a long-ago French boyfriend; to my husband's dog-eared Dashiell Hammett paperbacks, which I quietly stole and made my own; to my much-cursed What To Expect When You're Expecting, which I swear, still, years and years later, exudes the anxious scent of saltines.
These days, I'm going to the library more often than I ever did, and when I do buy a book, I give it away instantly. Maybe in my middle age, I've achieved some kind of Zen antipathy to property (I've also taken to purging my closets of unworn and/or bizarre ensembles and ridding my makeup drawer of glosses and shadows in unwearable shades). Or maybe I've finally run out of room on my bookshelves.
I suppose I'm destined to build more.
---
Susan Kandel is the author, most recently, of Not a Girl Detective (William Morrow, 2005). Her first novel, I Dreamed I Married Perry Mason, was an L.A. Times bestseller, an Agatha Nominee for Best First Novel, and is currently out in paperback from Avon.
---
Researching The Man with the Iron-On Badge
by Lee Goldberg (Tarzana, California)
It took me 25 years to research my novel The Man with the Iron-On Badge. I just didn't know I was doing it.
The book is about a guy who learns everything he knows about being a private eye from reading detective novels by Robert B. Parker, Sue Grafton, Ross MacDonald, Richard S. Prather, and John D. McDonald, among others. He soon discovers that the differences between fiction and reality can be deadly.
The story grew naturally out of my love for detective fiction and, at the same time, my weariness with it. Not just as a reader, but as a writer. Although I'd never written a PI novel before, I'd written for a lot of TV detective shows, including "Spenser: For Hire," "Nero Wolfe," and "Monk," to name just a few.
The conventions of the detective genre—which, I suppose, you could also call the stereotype and clichés—are so ingrained in us that they have become second nature and more than a little familiar. As a result, we have certain expectations from a PI story—and if the book or TV show doesn't deliver on those expectations, we're dissatisfied. I had a feeling the same was true about real PIs. You want the PI you hire to be a supremely self-assured, quick-witted tough guy with a sociopathic sidekick and an irascible friend-on-the-force or you'll find someone else.
We all want our private eyes to be like Travis McGee, Elvis Cole and Kinsey Milhone because they are our reference points—that's what we've grown up expecting PIs to be. I wouldn't want to be the PI who felt he had to live up to the example set by those fictional icons. One day it occurred to me that someone caught in that predicament would make an interesting hero for a book. But what if that hero wasn't a PI himself yet… but he desperately wanted to be one? And what if all his assumptions and expectations about being a PI came from the books he'd read and TV shows he'd watched?
To write that novel, I went back and re-read dozens of detective classics. I mostly concentrated on the books I loved as a kid… the Travis McGees and Shell Scotts, the Spensers and the Archers. But I also re-read a bunch of others, including Bart Spicer's Carney Wilde books, Ross H. Spencer's The Dada Caper, Zachary Klein's Matt Jacob novels, Richard Barre's The Innocents, Stuart Kaminsky's Murder on the Yellow Brick Road, Lawrence Block's Matt Scudder novels and Gregory MacDonald's Fletch series (yeah, I know Fletch wasn't a PI book, but he felt like one anyway). I also brushed up on my Robert Crais and Sue Grafton, my Steve Hamilton and Sara Paretsky. I stayed away from Hammett and Chandler, though I'd read them before. I was looking for more contemporary characters, even if they were influenced by Spade and Marlowe.
My research wasn't limited to books. I went through my videotape collection and watched episodes of "Mannix," "The Rockford Files," "77 Sunset Strip," "Vegas," "Peter Gunn," "Harry O," "Magnum PI," and "Spenser: For Hire."
If only all my research could be as much fun. I had a hard time convincing my wife that all that reading and TV viewing was hard work.
But the truth is that when you are reading or watching TV for research, not simple pleasure or distraction, the experience is very different. I was looking at structure and character, clichés and formulas, dialogue and action. I won't say it wasn't entertaining, but not the way it had been before. It really was work. Enjoyable work, but still work.
I learned a lot… or, perhaps more accurately, I saw things I already knew from a fresh perspective and gained a new understanding and appreciation. And the result is my book, The Man With The Iron-On Badge.
I've paid a price. Ever since I wrote the book, I haven't been able to enjoy private eye novels the way I used to. I can't get lost in them… I'm too busy analyzing them. It's as if I am still researching the book that I've already written.
I suppose there are worse fates…
---
Lee Goldberg is a two-time Edgar nominee whose TV writer/producer credits include "Diagnosis: Murder," "Missing," "Martial Law" and "Monk." He's also the author of the "Diagnosis Murder" and "Monk" series of paperback originals.
---
Booked for a Hanging
by Bill Crider (Alvin, Texas)
When Janet Rudolph mentioned that I might want to write an essay for her special MRJ issue on bibliomysteries, I was a little surprised, mainly because she's the first one ever to notice that my novel Booked for a Hanging actually falls into that category. At least as far as I know.
But the truth is, I deliberately set out to write a bibliomystery, though with my own peculiar touch, setting the book in Blacklin County, a small Texas county where nobody would expect a rare book to turn up, especially not one as rare as the Poe first edition that I picked to write about.
For those of you who want to know where I got the idea, it all started with a Texas Monthly article about forged documents. If you're curious about such things, the article, by Gregory Curtis, happens to be on-line. I used almost none of this material. It was just kicking around in the back of my head, and it would make quite a book all by itself.
I'd heard the story of the forged documents before I read the article, and I'd also heard quite a bit about John Jenkins, one of the book dealers Curtis mentions. And when I was in graduate school, I'd heard tales about some other famous Texas book forgeries in a bibliography class. That sort of thing (the tales of forgeries, not the bibliography class) fascinated me at the time, and I did a little reading in other sources.
A couple of other things got jotted down in my idea file, including several articles I read about John Jenkins' death, which occurred, as they say, under mysterious circumstances. Did he commit suicide? Or did was he murdered? Even now those questions remain unanswered to anyone's real satisfaction. Again, I didn't use any of this material, but it all contributed to my book. I can't find the articles any longer, and I don't even remember where they appeared. I think the longest and best of them was in The New Yorker, but I'm far from certain about that.
One thing I'm sure of is that John Jenkins had bought some property in a place very similar to one I was writing about in the Sheriff Dan Rhodes books, with an eye to turning it into some kind of writers' retreat. That was a connection I did use, though of course nothing that happens in the book comes close to resembling the real event. Like a lot of things I write about the stories that give me the ideas in the first place go through some strange transformations before they get onto the pages that eventually glide though my inkjet printer.
As I was going along in writing the book, I discovered that I was going to need an appearance by someone who actually knew something about rare books. Since a person like that wasn't likely to be residing in Blacklin County, I decided to Tuckerize a couple of real booksellers I knew, Willie Siros and Scott Cupp. You may have seen them selling books at a Bouchercon or two. At any rate, they became the character called "Willie Scott" in the novel.
One other thing. The novel went through several title changes. I'd planned to call it The Hanged Man, but my editor said that St. Martin's had another manuscript by that title. It turned out that it was by Walter Satterthwait, whom I didn't know at the time, though he and I have since become friends. I then suggested Booked to Die, but my editor turned that one down because there was another book by that title scheduled by Scribner's. As everyone knows, that one was by John Dunning, and it did a little better than mine. Still, I'm very fond of Booked for a Hanging, and I'm glad of this chance to mention it in connection with many no doubt much better-known bibliomysteries.
---
Bill Crider is the Anthony-award-winning author of the Sheriff Dan Rhodes mysteries. His latest book is A Bond with Death, an academic mystery set in a community college. Dead Soldiers, an academic mystery set in a four-year college is now available in trade paperback from Five Star. Bill's website is www.BillCrider.com and his blog may be found at www.billcrider.blogspot.com.
Buy this back issue! Available as a downloadable PDF.