Volume 38, No. 3, Fall 2022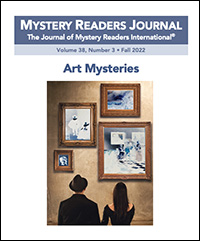 Buy this back issue! Available in hardcopy or as a downloadable PDF.
TABLE OF CONTENTS
AUTHOR! AUTHOR!
Why I Write Art Mysteries by Jennifer S. Alderson
Some Artists Need Killing by Donna Andrews
Art: A Criminal Passion by Ann Aptaker
When My Art Became Fiction by Anne Louise Bannon
Art Mysteries— from Nazi-Looted Art to Antiquities Trafficking by S.L. Beaumont
The Collector: Passion or Obsession? by Connie Berry
The Mystery of Real Desire by Rona Bell
Deepening the Mystery by Juliet Blackwell
Hop, Hop, Hopper! by Lawrence Block
The Sinister Attractions of the Art World? by Ruth Brandon
The Beauty of Holiness/The Holiness of Beauty by Kate Charles
The Fascination With Art & Art Mysteries by Rich DiSilvio
Folk and Outsider Art, and Scandal Mountain Mysteries by Trish Esden
The Power of Art by Laurie Fagen
My Love Affair with Vermeer by Susan Fleet
The Mystery of Art by Vinnie Hansen
A Deadly Art by Betty Hechtman
Inspiration from the Art Museum by Russell Hill
When Art Meets Crime by Stephanie Kane
The Mystery of the Misplaced Mona Lisa by Ron Katz
Art Will Have Its Way by J K Kennedy
Art and Crime Down Under by Katherine Kovacic
Light as a Sidekick by Kathryn Lasky
Telling the Stories I See (and the Joys of Research) by Joan Leotta
Small, Tender Art by Claudia Long
Escape From the Life Room by Peter Lovesey
Art Appreciation—a Dangerous Business by Adrian Magson
Research in the Days of Covid by Peter May
Our Art Adventures by Rosemary and Larry Mild
Searching for Mona Lisa by Carson Morton
Write Like an Artist by Radine Trees Nehring
Art, Then Mysteries by KC Nelms
Why I Was Inspired to Write Art Heist Novels by Carol Orange
Georgia O'Keeffe Was My Co-Author by Mike Orenduff
My Writing Forays into the Art World by Dale T. Phillips
Ekphrastic Fiction by Neil S. Plakcy
Plotting a Killer Inside Job by Martha Reed
Mixed Media: Art, Crime, and Romance by Claudia Riess
What If You Found a Florida Highwayman Painting? by Laura Kelly Robb
Art Thrillers and Me: My Love/Hate Affair by Jonathan Santlofer
Samuel Craddock's Art Collection by Terry Shames
When the Hammer Falls by Susan C. Shea
The World's Biggest Art Heist by Nancy Cole Silverman
Ten Clues for Art and Writing by Sue Star
Art…Beauty…Poison by Nina Wachsman
Art Cops and Weeds by David Wagner
Walking and Talking: Bringing Art and Artists to Life by Alana White
Who Tried to Kill France's First Painter? by Judy Willmore
COLUMNS
Mystery in Retrospect: Reviews by Jay Gertzman, Aubrey Hamilton, Lesa Holstine, Joan Ramirez, Kathy Boone Reel, L.J. Roberts, Lucinda Surber, Benjamin L. Clark
Children's Hour: Art Mysteries by Gay Toltl Kinman
In Short: Art and the Mystery by Marv Lachman
Real Art Crimes by Cathy Pickens
Crime Seen: Moving Pictures by Kate Derie
From the Editor's Desk by Janet A. Rudolph
---
Some Artists Need Killing
by Donna Andrews
When I started planning what would become the thirtieth book—and eighth Christmas mystery—in my Meg Langslow series. I didn't set out to write an art-themed mystery. I just wanted to come up with a bad pun involving birds, and then devise a plot to match. My editor and I settled on a title: The Twelve Jays of Christmas (Minotaur, 2021).
Great! But… what could Meg possibly be doing at Christmas that would involve jays? Especially since, to keep my editor and my readers happy, my Christmas book, as usual, would involve inflicting a totally unrealistic amount of snow on the fictional town of Caerphilly, Virginia. What could blue jays be doing in the snow, apart from haunting the bird feeders? I should bring them inside, where they could cause a useful amount of chaos and consternation.
But why would anyone bring even a single blue jay indoors, much less the dozen called for in the title?
And then Roderick Castlemayne sprang forth from my mind, fully formed. Castlemayne is a gifted and famous wildlife artist, hired by J. Montgomery Blake, the eminent naturalist—and Meg's grandfather—to do a dozen original bird paintings as illustrations for an upcoming nature book. Castlemayne's a perfectionist who insists on painting only from life—voila! A reason for the jays to be inside the house. He's also clueless about bird behavior, so he opens the door of the cage to get an unimpeded view of them—now we have the jays loose in the house.
And he's a curmudgeon and a bully and generally not a nice person, making him the perfect victim for one of my mysteries. I try not to kill nice people. Not that it's okay to kill nasty ones, of course; and besides, since I'm writing humor, neither victims nor villains ever get anywhere near the Hannibal Lector or Jack the Ripper level. I try to kill off people who could inspire this kind of exchange:
A: There's been a murder!
B: Oh, no! Who's the victim?
A: Roderick Castlemayne.
B: (after a slight pause) Well, that's still not okay.
Once I had my title and my victim, I started working on the plot. And I found myself harking back to my college days. For three of my four years at the University of Virginia, I roomed with a friend who was a gifted artist and a studio art major. One day she and two of her friends came over to do an assignment together. If memory serves, it was sketching a still life of a bowl of fruit.
My roommate's fruit looked lovely. Enticing. You just knew if you could reach out, grab one of the apples, and take a bite, something magical would happen. Galadriel would appear. You'd gain the ability to understand animal speech. You'd be whisked away to Oz or Narnia.
Friend one's fruit, on the other hand, was clearly unwholesome. Tainted. You kept waiting for the worm to pop through the skin of the apple—and not a normal mundane earthworm, but some spiny eldritch horror from an alien dimension. You knew better than to take a bite—dying would be the best possible outcome. More likely it would transform you into something that would make a Stephen King novel look about as scary as Pat the Bunny.
Friend two's fruit was structural. Architectural. You could tell just by looking at it that his real passion was drawing buildings. But if that sounds boring, it wasn't. It made you see things about the fruit—the perfection of the curve of the apple's silhouette. The fascination of the pattern of stippling on the orange's skin. You felt the weight and shape and solidity of the fruit, and the way, for that short period in time, the world seemed to revolve around that bowl of fruit under the pressure of those three pairs of eyes.
Well, four pairs of eyes, including mine. And then they all finished their drawings, and I think we celebrated by eating the fruit. One more routine assignment ticked off for them, and an afternoon I never forgot. I learned things that day about the importance of what artists, like writers, call voice.
I thought back to that afternoon when I was planning what would happen in The Twelve Jays of Christmas. Could I give Meg that experience of seeing how the artist's hand—and mind—inevitably shape the work? And maybe even have her use that insight to find a clue?
I'm not sure if I accomplished that—are any of us ever sure we've accomplished one tenth of what we set out to do when we start a book? But I had fun along the way—as I hope people will when they read the book—and sometimes that's the best you can hope for.
Well, that and figuring out how to work in that really big snowstorm that will keep your editor and your readers happy.
---
Donna Andrews is the author of 31 (soon to be 32) books in the Meg Langslow series from Minotaur, including Round Up the Usual Peacocks (August 2022) and Dashing Through the Snowbirds (October 2022). She's a member of Mystery Writers of America, Sisters in Crime, and Novelists, Inc.
---
Hop, Hop, Hopper!
Lawrence Block
The birth of Athena, as you may recall, was a rather unusual example of natural childbirth. She emerged full-blown from the brow of Zeus. No mother, no gestation period, no birth canal—and no infancy either, no childhood, no awkward adolescence.
Poof! And there she was, the embodiment of wisdom, and immortal in the bargain.
Well, that can happen with book ideas, too. It usually doesn't, but it can.
And did, with In Sunlight or In Shadow.
It was not my first anthology. There had, in fact, been a dozen before it, but almost all of them had been undertaken in response to a publisher's suggestion. There'd been a certain satisfaction in having brought them into existence—I always feel a sense of accomplishment when I add another book to the shelf—but I was certainly not casting about for ideas for more of them.
Was I casting about for ideas of any sort? Not that I recall. I remember the day. It was a Friday, the 19th of June, 2015, and I was sitting where I am sitting now, in a chair at a long table in a chamber my wife once hoped would be our dining room, even as she'd hoped the long table would be our dinner table.
What a dreamer she was…
I've no idea what I may have been thinking about, but a cartoonist recording the moment would have drawn a light bulb over my head, because from out of nowhere I suddenly Had An Idea. A book, an anthology, with every story inspired by a different painting of the American artist Edward Hopper.
That was the idea, and it came all in a rush, with all its elements present and accounted for. The title followed almost immediately, as thunder followes lightning: In Sunlight or In Shadow. I had always liked the phrase, from the song "Danny Boy," and it felt particularly appropriate for Hopper, whose paintings are all about sunlight and shadow.
And it was five words long. I have been partial to five-word titles for over fifty years, although I couldn't tell you why.
(It was, I should also add, a misquotation of "Danny Boy." Frederic Weatherly, who wrote the lyric in 1913, rendered the phrase as "in sunshine or in shadow." When Google told me as much, I never even considered changing my title. Hopper's more about sunlight than sunshine. Plus it sounds better.)
Now when an idea comes along, I'm inclined to give it time—to ferment, to percolate, to do something with itself that might inform my own choice of what to do with it. Well, not this time. The idea popped out of my forehead like Athena herself, and who was I to put her on the shelf?
What I did, right away, was begin compiling a list of the writers I'd most like to recruit for the project. When I had a dozen or so names jotted down, I began drafting an email, which I headed A Modest Proposal.
Something you should know: An invitation to write a new story for an anthology is not as universally welcome as the news that you've just been awarded a MacArthur grant. The anthologist is essentially asking a favor, and one that will require a commitment on your part to dream up a story and spend God knows how much time writing the bloody thing—and, the economics of anthologies being what they are, all for not nearly enough money.
At the very least, the writers I invite are tasked with finding a reasonably polite way of telling me to go to hell.
So I sent off my emails with the hesitancy with which a seller of magazine subscriptions knocks on a door, and the damnedest thing happened.
Damn near everybody said yes.
Now I'd love to think it was my vaunted powers of persuasion, that I was the sort of chap who could get rich selling dehumidifiers in the Sahara, but it wasn't me. It was Edward Hopper, who turns out to be every writer's favorite painter.
Almost everybody said yes, and did so without taking terribly long to consider the matter. The ones who said no added that they loved the idea, and they loved Hopper, and if only they weren't three months past a deadline with half a dozen other commitments standing by, and a child in utero and another on the spectrum, this would be something they'd jump at, if not in a hot second, certainly in a hot third or fourth.
And one of the ones who had to pass emailed me a few days later. Might he reconsider? Because he was looking at Hopper paintings online, and there was one he'd always loved that was whispering to him…
Here's the final lineup, in alphabetical order: Megan Abbott, Jill D. Block, Robert Olen Butler, Lee Child, Nicholas Christopher, Michael Connelly, Jeffery Deaver, Craig Ferguson, Stephen King, Joe R. Lansdale, Warren Moore, Kristine Kathryn Rusch, Joyce Carol Oates, Jonathan Santlofer, and Justin Scott.
And Gail Levin, Hopper's biographer, joined the party with her first-ever work of fiction. And I figured I'd sit this one out myself, and then I was looking over some of the man's work, and I saw the 1927 painting Automat, and before I knew it I'd written a story.
Look, it's not that the man's a narrative painter. He's the farthest thing from a narrative painter. His paintings don't tell stories. What they do—better, I submit, than any other artist with whose work I'm familiar—is suggest there's a story to be told.
And the contributors to In Sunlight or In Shadow found those stories, and told them very well.
This still didn't make the project an easy sell. Two or three decades ago, when the much-missed editor and packager Martin L. Greenberg was in his heyday, publishers were reasonably keen on anthologies. By the time my agent, Danny Baror, was shopping ISOIS, the world had changed in this respect, as in so many others. Anthologies weren't quite as tough a sell as trilogies in iambic pentameter, but close enough. Publishers liked this particular idea, thought it was a brilliant premise with a great lineup of talent, but they somehow found themselves able to pass.
And this would be an expensive book to produce. You'd need high-quality color reproduction of all those paintings, and you'd have to clear the rights to reproduce them. It took a while, but Danny finally showed the book to just the right publisher, Claibourne Hancock of Pegasus Books, who did a superb job of publishing it.
Pegasus did well enough to let me follow up with two other volumes, Alive in Shape and Color and From Sea to Stormy Sea. The idea was the same, pick a painting and write a story, but Hopper got a well-earned rest and contributors found their inspiration in the work of other artists.
And that, I decided, was enough. Anthologies in general, which I've described as the last refuge of the over-the-hill writer, are almost inevitably too much work for too little money; the art-based anthologies, with all the correspondence and negotiation required to secure the requisite permissions, was way too much work for not nearly enough money.
But I have to say I think they came out rather well. Beautiful volumes, terrific stories. I'm proud to have my name on them.
---
Lawrence Block's new book, The Burglar Who Met Fredric Brown, is widely available for preorder in advance of its October 18th publication. But he's still in the anthology game, most recently with Collectibles and the forthcoming Playing Games.
---
Escape From the Life Room
by Peter Lovesey
"I was offered a job today."

Stephanie Diamond lowered the evening paper sufficiently to look over the top edge and see if her husband was serious. "A proper job?"

"That's open to debate."
This is from The Summons, the third of the Peter Diamond series, a low point after he had quit his job as the top detective in Bath police and was living in a basement in London and working in a supermarket.
"But you've already got a job."

He nodded. "This is an evening job, as a model."

She stared. Her mind was on the fashion trade. "What?"

"A model. This character with a bow tie and a tartan waistcoat approached me in Sainsbury's. They're short of male models at Chelsea College."

She put down the paper. "An artist's model?"

"Right."

"With your figure?"

"My figure is simply crying out to be captured in charcoal according to my new friend. I have a Rubenesque form and challenging contours."

"Did he say that?"

"Have you ever heard me talk that way?"

"You wouldn't pose naked?"

"Why not? The pay isn't bad."

"I don't think I want my husband exposing himself to a roomful of students."

"You make it sound like a criminal offence."

"Some of them are straight out of school. Young girls."

"I'm sure they'll hold themselves in check."
To discover whether Diamond bared all, you had better read the book. Rubenesque he may be, but he's no connoisseur of the creative arts. Kicking and screaming or just complaining, he gets shoehorned into unfamiliar settings by me, his unrelenting boss, and we've covered literature in The Vault and classical music in The Tooth Tattoo. To be truthful, there wasn't a lot about art in The Summons, but in the latest of the series, Diamond and the Eye, I plunged him up to his neck in a plot involving a great artist.
Almost a lifetime ago, I was admitted to a degree course in fine art at Reading University. I would have preferred literature, but in those days you had to be qualified in Latin to study English and I was hopeless at that, so my only route to higher education was through my occasional pastime of drawing. The professor at the interview looked through my portfolio and asked me who I admired. By good fortune I mentioned Walter Sickert, now best known to mystery readers as the artist Patricia Cornwell believes was Jack the Ripper. She spent a small fortune trying to prove her case and published Portrait of a Killer: Jack the Ripper—Case Closed. Researchers have since confirmed that Sickert was rarely in England during the crucial year of 1888, so the case remains open after all.
My stroke of luck was that James Anthony Betts, the elderly, gnomish, chain-smoking professor with the power to decide my future had been a pupil and friend of Sickert—it was that long ago—and was still under his spell. I was accepted for the course. Instead of a chaise longue in the life room, we had an old iron bedstead and mattress reminiscent of Sickert's series of bedroom scenes known as The Camden Town Murder. My first two terms at Reading were spent mainly in that room improving my drawing and wondering whether we were staring at the actual bed from Sickert's studio. The practical tuition was along traditional lines and frankly rather limiting, only one step on from the time-honoured practice of drawing from plaster casts. Most of us were interested in developments since the impressionists. To be fair, we did have some wonderful lectures in the evenings after our stint of drawing was over. I particularly remember Ernst Gombrich, author of the seminal book The Story of Art, which opens with the line "There is really no such thing as art. There are only artists." And Leopold Ettlinger, a Picasso expert, gave us insights into how Guernica evolved as a masterpiece. I was conflicted, wanting to move on from figure drawing.
After two terms, I escaped from the life room. I had been attending some lectures on Jane Austen and putting in essays and I was invited to transfer to English Literature without having to speak a word of Latin.
I wish I could say I made a success of the English course. I was no academic, but enough rubbed off on me to give me the confidence ten years later to write a novel and ultimately make my career as a writer using bits of literary trivia to spice the plots. My days as an artist were just a memory, but occasionally came in useful. In A Case of Spirits, one of the Sergeant Cribb series set in Victorian London, Dr Probert had a fine collection of Victorian nudes covered with modesty curtains.
"One cannot be too discreet when there are ladies in the house…  Would you like to see some more? I have a magnificent Rape of the Sabine Women on this wall."
"Thank you, sir, but not just now. We policemen come across quite enough of that sort of thing in our work."
I suppose I could have plotted a mystery featuring Sickert. After all, Peter Diamond's patch is the city of Bath and Sickert adored the place. In 1918, he wrote to one of his students, Nina Hamnett: "I am dying, all obvious selfishness apart, for you to come to Bath. The beauty of the place is incredible. You could walk in these gardens and orchards in perfect peace, Such roofs, such roses, such contorted walls." He had moved there as a haven during the First World War and had a studio in Fitzroy Place. He returned on the outbreak of the Second World War and died there in 1942. It was tempting to introduce him in Diamond and the Eye, but I had an even more illustrious painter in mind.
During the second half of the 18th century, Bath was a honeypot for artists. In her book, Gainsborough in Bath, a main source for me, Susan Sloman identifies by name more than 160 painters who lived and worked there. It must have been difficult turning a street corner without tripping over an easel. But much of the attraction for artists was that this spa city was the fashionable place to visit during the "season," a kind of 18th-century Las Vegas, with gambling and entertainment, and plenty of the rich wanted their portraits painted. Thomas Gainsborough himself arrived there when he was 31 and stayed until he was 47. By then he had developed into the foremost portrait painter in Europe.
Without giving too much away about the plot of Diamond and the Eye, I wanted to revisit some of the conflicts I experienced as an art student. The murder squad are brought face to face with what Robert Hughes famously termed "the shock of the new," in the form of a stolen painting believed to be a major expressionist work. Their prejudices are challenged and it emerges that Diamond's deputy, Keith Halliwell, has a deeply personal reason for hating abstract art.
The country was in lockdown while the book was being written and I was unable to visit Bath, as I generally do when researching a book. Not to be thwarted, I asked two residents of the city, my friends and fellow-writers Liza Cody and Michael Z. Lewin, to try and get me some pictures of the rear of one of the houses Gainsborough had lived in. It's in The Circus, an architectural jewel that like many of the great buildings has an imposing façade but a disappointing rear aspect. I'm reminded of Ogden Nash:
Sure, deck your lower limbs in pants;
Yours are the limbs, my sweeting.
You look divine as you advance—
Have you seen yourself retreating?
Mike and Liza made a recce of the back of the privately-owned building from Circus Place and were spotted looking over the wall by a police patrol car that drove past and returned for a second look at them. They escaped without even a caution, but with some helpful photos for me. Friendship doesn't come better than that.
And that's about all I can reveal of my art mystery without spoiling the plot, except I'm delighted with the covers by Sphere in the UK and Soho in the US. Representational? Symbolic? Expressionist? I don't really mind anymore.
---
Peter Lovesey is the only living British writer to have been awarded the two highest honours in the crime-writing world: the Crime Writers Association Diamond Dagger and Grand Master of the Mystery Writers of America. His full story can be found at peterlovesey.com.
Buy this back issue! Available in hardcopy or as a downloadable PDF.