Volume 39, No. 3, Fall 2023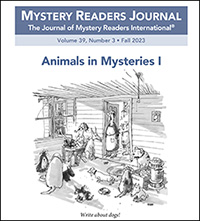 Buy this back issue! Available in hardcopy or as a downloadable PDF.
TABLE OF CONTENTS
ARTICLES
AUTHOR! AUTHOR!
No Wombats Involved by Donna Andrews
On Horses and Drug Sniffing Dogs by Anne Louise Bannon
Solving Crime From a Dog's Point of View by Louisa Bennet
Best Friends to the End by Cleo Coyle
Dogs Are Supernatural by Jeffrey B. Burton
Rescuing Animals Through Mysteries by Cate Conte
What The Dog Knows by Krista Davis
When Disaster Strikes, Dogs Answer the Call by Sara Driscoll
How Tugger Became Boone by Darlene Dziomba
Reinventing Max and Thomasina Bug by Elizabeth Elwood
The Character of Creatures by Kate Fellowes
The Making of a Hobby by Chris Goff
Hold Your Horses by Sasscer Hill
Beasts in the Garden by Cary Griffith
The Strength of Animals by Elle Hartford
I Don't Do Goodbyes by Nancy Lynn Jarvis
The Great (Cat) Detectives by Sofie Kelly
The Terrier Takeover by Shannon Hollinger
A Foot and a Half Long Bundle of Love by Syrl Kazlo
A Writer's Recipe for Happiness: Books and Dogs and Trees by Paula Munier
Animals and the Mysterious Ordinary by Priscilla Paton
Tale of a Whale by Richie Narvaez
Chet and Me by Spencer Quinn
Cat Mummies and Other Feline Tales by Mary Reed and Eric Mayer
The One Percent Cat by Elena E. Smith
Then There Was a Dog by Linda L. Richards
Getting To Know Dogs by Leigh Russell
Where the Wild Things Are by Wendall Thomas
Eight Paws, Two Wings by Lois Winston
COLUMNS
Mystery in Retrospect: Reviews by Lesa Holstine, Kathy Boone Reel, L.J. Roberts
Children's Hour: Animals in Mysteries by Gay Toltl Kinman
From the Editor's Desk by Janet A. Rudolph
---
Beastly Business: Animals in Mysteries
by Martin Edwards
Animals have played a memorable part in countless mysteries, starting with the very first detective story, Edgar Allen Poe's locked room puzzle "The Murders in the Rue Morgue." In Wilkie Collins' The Woman in White, the unforgettable villain Count Fosco surrounded himself with "a cockatoo, two canary-birds and a whole family of white mice," while the Hound of the Baskervilles terrorised Dartmoor in Arthur Conan Doyle's finest Sherlock Holmes novel.
Doyle loved the outdoors and his love of animals is reflected in his fiction, even if the creature in "The Speckled Band," one of Holmes' most atmospheric cases, does not actually exist. In "Silver Blaze," Holmes investigates the disappearance of a prize winning race horse and the death of its trainer owner. His inquiries give rise to a celebrated exchange with the local cop Inspector Gregory:
Gregory: Is there any other point to which you would wish to draw my attention?

Holmes: To the curious incident of the dog in the night-time.

Gregory: The dog did nothing in the night-time.

Holmes: That was the curious incident.
Patterns of animal behaviour are central to the story, which was first published in 1892. Four years later, Doyle took up riding during a trip to Egypt. He soon received a reminder of the unpredictability of animals: on one occasion a frisky black stallion sent him flying and kicked him on the head with such force that he was lucky not to lose an eye.
By that time, the literary career of Nat Gould was already under way. His first book, The Double Life: a Tale of the Melbourne Cup, appeared in 1891, and he proceeded to turn out more than a hundred thrillers, generally with a horse racing theme. His successes were later eclipsed by those of the high profile former jockey Dick Francis, whose crime writing career began in 1962 with Dead Cert. No fewer than three of his thrillers, which invariably drew on his knowledge of horse racing, won an Edgar award from the Mystery Writers of America. Today, Dick's son Felix continues the "family business" of writing action stories with a racing background.
Animals play an extraordinarily wide variety of roles in crime stories. They may be victims, culprits, witnesses, even detectives. Agatha Christie was a passionate dog lover, and she actually dedicated Dumb Witness, aka Poirot Loses a Client, to her wire-haired terrier Peter. Peter is fictionalised in the story as Bob, and his picture took pride of place on the first edition dust jacket.
Stella Tower's Dumb Vengeance is a rare Golden Age mystery by a talented but little-known writer (she also published under the name Faith Wolseley), but is even more striking. The story is told in the first person; the narrator is Miss Jenkins, who lives at Houghton, the home of well-to-do John Vine and his wife Gloria. Vine is an amiable fellow, and Miss Jenkins is devoted to him. But the first twist in this interesting story comes when we discover that Miss Jenkins is a dog…
If Dumb Vengeance was perhaps the first crime novel to be narrated by an animal, it certainly wasn't the last. Felidae, published in 1999 by the Turkish-German writer Arif Pirincci, is an especially striking piece of work. Narrated by Francis, a cat, the book was subsequently filmed, and launched a series.
Felidae is a dark story, in marked contrast to many of the so-called "cosy crime" mysteries which focus on animals and which enjoy considerable popularity. Clea Simon has become a prolific author of light-hearted pet mysteries such as Probable Claws, Cries and Whiskers, Parrots Prove Deadly, and When Bunnies Go Bad. Cats are especially popular protagonists in detective stories, and the long-running series by Lillian Jackson Braun which began in 1966 with The Cat Who Could Read Backwards (the cat in question is a Siamese called Koko) yielded many bestsellers.
The British philosopher and mystic Gerald Heard made an unexpected splash with A Taste for Honey, an odd story novel published in 1941 under the name H.F. Heard. The story featured an enigmatic beekeeper who calls himself Mr Mycroft; it was filmed (not very successfully) in 1966 as The Deadly Bees, with a script co-written by Robert Bloch.
Much more impressive was Alfred Hitchcock's The Birds, based on a short story by Daphne du Maurier, and with a screenplay written by Evan Hunter, better known as Ed McBain, the master of the American police procedural novel. Ann Cleeves—whose late husband Tim was an ornithologist—won a CWA Gold Dagger for Raven Black, and ornithology features in many of her more recent books, as well as in her first series of eight novels featuring George and Molly Palmer-Jones. My own fiction rarely features animals, but "The People Outside," a short story in Thou Shalt Not Kill, edited by the late Anne Perry, is a macabre exception. And Guilty Creatures, an anthology I compiled for the British Library's series of Crime Classics, offers a range of neglected tales by writers ranging from Headon Hill and Edgar Wallace to Josephine Bell and Christianna Brand which shows that close encounters between animals and human criminality can be a beastly business—but entertaining, all the same.
---
Martin Edwards' latest books are the Edgar-winning The Life of Crime and the fourth Rachel Savernake novel, Sepulchre Street.
---
Best Friends to the End
by Cleo Coyle
While the two mystery series that I write with my husband are not categorically animal themed, they always feature animals. The reason is simply because we can't imagine a world without animal friends—and that includes our fictional worlds.
All our lives, Marc and I have loved animals. After meeting and marrying, we began writing together and rescuing New York stray cats. At one time, we had eighteen furry souls under our Queens rowhouse roof. And yes, I know some people will have a flabbergasted reaction upon learning that fact.
To wit—Years ago, one of my co-workers introduced me to a friend of hers. I liked the woman immediately because of her dog. Hobbs was old. And he wasn't in good shape. He needed medications and lots of TLC. This woman selflessly provided both.
My co-worker did not understand her devotion. When the woman and her dog left the room, my co-worker rolled her eyes and said that she was tired of her friend's tailoring her time around "Hobbs and his needs."
Hearing those four words, so cynically uttered, made my heart drop. And for the first time in my life I realized—really realized—that there are people in this world who will never understand what it is to love an animal and devote yourself to caring for it, even to the very end.
There is something incredibly pure and natural about being with animals. The connection they give us to the cosmic helps us transcend the anxieties and pettiness of our daily human lives.
It's no wonder, after two decades of writing two different series, we finally decided to write a completely animal-themed mystery of our own. With all the pets Marc and I have cared for, we had a deep vein of memories to mine when we wrote The Ghost Goes to the Dogs, the ninth book in our Haunted Bookshop Mysteries.
The series is led by Penelope Thornton-McClure, a young widow and single mother who runs a Rhode Island bookshop, which is occupied by a resident orange tabby named Bookmark (a tribute to our rescued stray Punkin) and haunted by an irresistible PI ghost.
The hard-boiled spirit of Jack Shepard was gunned down in Penelope's shop in 1947, and he's so monumentally bored by his small-town afterlife that he prods the young bookseller into amateur sleuthing.
In The Ghost Goes to the Dogs, both Jack and Pen encounter suspicious dogs that lead them into trouble. One dog is in Penelope's present, another is in Jack's past. Both of these dog stories involve unsolved crimes, which ultimately connect when the solutions are found.
For this special entry in our series, Marc drew on memories of his boyhood dog, Eric, who loved baths but hated the things that went with them. In fact, Marc grew up with a virtual menagerie, all of whom have found their way into our fictions over the years—Eric the Weimaraner, two Siamese cats, and a parrot named Riley.
Marc's unpredictable duck Whacker will be making his debut in our twenty-first Coffeehouse Mystery, coming in 2024. Whacker attacked Marc's grandmother as she was delivering the turkey one Thanksgiving Day. (His family members were convinced the duck had judged granny guilty of murder.)
Anyway, Marc's memories of those funny, chaotic days became the basis for the town's pet festival in The Ghost Goes to the Dogs. And if you love animals, you won't want to miss it.
As for me, I have always been simpatico with cats, which is why Clare Cosi, the coffeehouse manager, master roaster, and amateur sleuth protagonist of our Coffeehouse Mysteries, cares for two feline roommates.
Java is a tribute to Turtle, the first shelter cat Marc and I adopted together; and Frothy was inspired by a fluffy feral ragdoll kitten who appeared on our back porch and never left.
Over the course of our Coffeehouse series, Clare's cats have played key roles in her caffeinated sleuthing. Java actually saves the day in our first title, On What Grounds. And in the mysteries that follow all the cat antics are drawn from life with our feline friends, the latest being the "pigeon and sparrow show" Clare creates with a birdfeeder to entertain her girls in Bulletproof Barista. (We do the same.)
Though I dearly love dogs, I'd never been responsible for taking care of one—let alone a very large one—until I volunteered to dog sit for my sister's big Sparky and little Fred.
My canine education also fueled our creative engine for The Ghost Goes to the Dogs. Because our amateur sleuth bookseller and her PI ghost had never lived with dogs either, my laughable inexperience became theirs.
For instance, I learned the hard way that dinner's leftovers (specifically a tasty beef roast) should be put away fast in my sister's house—otherwise you lose it to the quick leap and even quicker jaws of a clever black Lab. And though I was more than familiar with kitty litter, the public pooper scooping took some getting used to.
On the other hand, once I got the hang of walking the pair, I felt as if I were strolling the streets with two best friends, exploring, romping, and playing.
As for the cats in our lives, our readers may notice that we've dedicated books to them—and for good reason. When Marc and I took in the amazing Sheena, our first stray cat adoption, other lost souls began to find us—pregnant mothers, abandoned kittens, hungry ferals—as if they knew where to go for help. In the most astonishing, almost supernatural ways, they show up at our door, which we open to them again and again.
Why do we do it?
You might as well ask us why we chose the crazy business of writing fiction for our living, an endeavor similarly fraught with frustrations and heartbreak. On the other hand, when channeling the creative, we also experience astonishing feats of alchemy. Loving animals is no different. Patience and devotion are indelibly transformed into comfort, comedy, the purest kind of love, and countless daily joys.
---
Cleo Coyle is the New York Times bestselling pseudonym of Alice Alfonsi, who collaborates with her husband, Marc Cerasini, to write the long-running Coffeehouse Mysteries and Haunted Bookshop Mysteries. When not haunting coffeehouses, hunting ghosts, or wrangling stray cats, Alice and Marc are also New York Times bestselling media tie-in writers.
Chet and Me
by Spencer Quinn
People often lie to others, sometimes lie to themselves, but never lie to their dogs. That thought came to me early on in the writing of the Chet and Bernie mystery series, which will reach number fourteen with the publication of Up On The Woof Top in October. Fourteen and counting. Although Chet isn't doing the counting, since he doesn't go beyond two.
Whoa. Better back up a bit. The Chet and Bernie mysteries steal the set-up devised by Conan Doyle, where the master detective's sidekick tells the story in the first person. But there are differences. For one, Bernie, the detective, is no master, except in the eyes of Chet. Second, Chet, the sidekick, is not a physician. He's not even human. He's a dog—in fact, a K‑9 school washout. And you couldn't really call him a sidekick, since he's a full partner. Plus it turns out that in many ways Bernie is indeed a master detective. Are we clear now?
I didn't think so. Blame my wife. She was the one who said, "You should do something with dogs." Excuse me? Hadn't I often had dogs in my novels—Buster, say, in Oblivion, or Nigel in The Tutor? But those were dogs in supporting, trot-on roles, and you never saw inside them. So therefore… my wife meant something else, like… a dog narrator! A dog narrator! Why hadn't I thought of that? But one thing I've learned over the course of writing forty-six novels: It never pays to mull over the source of inspiration. Didn't Chuck Close say inspiration is for amateurs? Or was it Chuck Jones? No matter. Within fifteen minutes of my wife's suggestion, I'd gone over to the office and written the first page of what became Dog On It, first in the series. And now's a good time to deal with a question I've fielded many times: Should the series be read in any particular order? Answer: that's a question Chet would never ask.
If the Chet and Bernie series works, it's for one reason: Chet is not a talking dog. He's as canine as I can make him. He doesn't know anything a dog wouldn't know, although of course he's accumulated lots of special and even unusual knowledge from his law enforcement background. So: he narrates but does not talk. Everything the reader learns about the story comes from him, which for one thing means entering a world where the senses of smell and hearing are just as or at times more important than the visual sense.
The plotting of a traditional mystery novel has similarities to the solving of real crimes. A chain of clues is constructed and a logical conclusion is drawn. Well, Chet can't do any of that. And even if he could he might sniff a Cheeto behind a fridge at a key moment and miss something important. Yes, dear reader, he's an unreliable narrator! As though I'd gotten an MFA in creative writing. Which I did not! Instead I just wrote. But the introduction of an unreliable narrator into the strict mystery format blew up the whole thing, and all sorts of fun began to happen. What's fun for the writer isn't necessarily fun for the reader, of course. That's where self-discipline comes in.
Once I was on a panel and an audience member asked about writer's block. The other panelists bemoaned it but—knocking on wood—I said I'd never had it. If I feel a blockage looming I step back and remind myself of the beating heart of the story, the spirit of the book, and then a narrative route always suggests itself. The beating heart of the Chet and Bernie mysteries? That's an easy one. It's the love between Chet and Bernie.
Which sort of brings us back to where we started. People don't lie to their dogs. While it's true that not everyone talks to their dogs, lots do, myself included. "Nice day, huh, Dottie?" Or "Hey, Pearl, where did I put the car keys?" Bernie talks to Chet, revealing things he reveals to no one else, so in this simple, direct way, we get to know him better than anyone in his life. It's analogous to Shakespeare's soliloquies, where Hamlet, say, turns to the audience and spills his guts. But that's so artificial. My way is better. If Shakespeare had married my wife instead of Anne Hathaway, there's no telling what he might have accomplished.
---
Spencer Quinn (aka Peter Abrahams) lives on Cape Cod with his wife, and dogs Dottie and Pearl.
Buy this back issue! Available in hardcopy or as a downloadable PDF.