Volume 26, No. 1, Spring 2010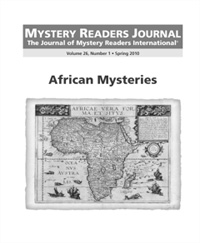 Buy this back issue! Available in hardcopy or as a downloadable PDF.
TABLE OF CONTENTS
A Safari Through African Mysteries by Verna Suit
African Noir: The Bruce Medway Series by Ayo Onatade
African Mysteries by Toby Gottfried
The Real Mysteries of Africa by Cathy Pickens
Crossword: The Mysterious Continent by Verna Suit
Stories Are an International Language: Interviews with Two South African Writers by Yvonne Walus
Detective Fiction in Morocco and South Africa: The Legacy of Colonialism by Agustín Reyes Torres
Elspeth Joscelin Huxley (1907–1997) by Sarah R. Shaber
AUTHOR! AUTHOR!
Murder on Safari by Suzanne Arruda
Ubuntu by Anthony Bidulka
Finding the Darkness in the Light by Evan Kilgore
Nobody Looks Out of Place by Nick Brownlee
A Little of Everything by Richard Kunzmann
Growing Up Bashilele by Tamar Myers
Random Violence by Jassy Mackenzie
A Guide to the City Past and Present by Mike Nicol
Cape of Torments: Writing Crime in South Africa by Margie Orford
Afrikaans Mysteries by Chanette Paul
I Bless the Rains Down in Africa by Walter Satterthwait
African Adventures by Michael Stanley
Murder @ South Africa by Yvonne Walus
COLUMNS
Mystery in Retrospect: Review by Peter Rozovsky
In Short: In Africa by Marvin Lachman
Crime Seen: Mystery in Africa by Kate Derie
The Children's Hour: African Mysteries by Gay Told Kinman
From the Editor's Desk by Janet A. Rudolph
---
A Safari Through African Mysteries
by Verna Suit (Silver Spring, Maryland)
My reading safari through Africa began because I love reading about the 1920s. It was a time of changes everywhere and exciting new things—airplanes, movies, jazz, even crossword puzzles. So when I happened upon Michael Kilian's A Sinful Safari (2003), set among British expatriates in 1920s East Africa, I settled in for a good read. Kilian didn't disappoint. His book is a delightful romp that blends fact with fiction. Real-life characters Blor and Karen Blixen, Denys Finch-Hatton, Beryl Markham and the Prince of Wales all make appearances, and the murder happens on a safari that could have come right out of an old Tarzan movie. I grinned through the whole book.
Then a few years later, I was delighted to see the debut of Suzanne Arruda's Jade del Cameron series, also set in 1920s Africa. Mark of the Lion (2006) introduces New Mexico-born Jade as she's driving an ambulance in WWI. Afterward, she moves on to Kenya to keep a promise to a dying fiancé and to pursue a career in photojournalism. She's joined there by titled friends from the war and collects other assorted companions who continue through the series.
In the first book, Jade establishes herself locally as a force to be reckoned with and is given her Swahili name, Simba Jike (Lioness). In Stalking Ivory (2007), an assignment to do an elephant survey leads to a battle with ivory poachers. The Serpent's Daughter (2008) takes Jade to Morocco to rendezvous with her traveling mother and finds them both kidnapped in Marrakech and rescued by Berbers. Jade is back in Kenya for The Leopard's Prey (2009), helping to collect animals for zoos and trying her hand at flying. Treasure of the Golden Cheetah (2009) takes Jade on an ill-fated safari as co-handler of a Hollywood movie cast and crew.
Arruda's books have everything. Jade herself is ready for adventure and represents women's new independence and freedom. Her pet cheetah, Biscuit, charms animal lovers, and love interest Sam Featherstone's flying and filmmaking taps into the era's technological changes. The book itself is good-hearted, with Jade's circle of friends all caring about Africa and its people and animals, and also about each other. All this is set against the exciting, beautiful, mysterious African landscape. I happily read through all five books.
The 1920s may have brought me to reading about Africa, but the continent itself kept me there. The exotic scenery and animals seduced me, and so did the pioneer spirit that, for better or worse, brought westerners swarming into Nairobi at the beginning of the last century. It echoed the experience of the American West, with the added charm of the very civilized English dealing with frontier rigors.
Finally forced to move on from the 1920s, I came upon British author Elspeth Huxley, best known for her memoir of growing up in Kenya, The Flame Trees of Thika. But she also wrote a series of contemporary Kenya-set mysteries in the late 1930s. Murder at Government House (1937), Murder on Safari (1938), and The African Poison Mysteries (1939) all follow CID Superintendant Vachell as he investigates murders. The last book was written on the eve of WWII and addresses the growing Nazi threat among alien residents of the British colony. Huxley is an author from an earlier, less socially conscious age, and though an occasional servant in her books is named, mostly they are just "the boys". For whatever reason, she lightly disguises Kenya in two of her books by calling it "Chania."
Next up was popular author M.M. Kaye, who set books in the exotic locales where her British military father and then husband were posted. Death in Kenya (1958) deals with the Mau Mau Rebellion against British rule, which took place in the 1950s, when Kaye lived there, and led to Kenyan independence in 1963. In the book, Kaye's British settler/farmers jealously guard their "own little patch" which they worked hard to establish. They are still paternalistic toward their Kikuyu servants but are marginally more sensitive. Their empathy is mixed with distrust, however, because the Kikuyu make up the core of the Mau Mau Rebellion. Death in Zanzibar (1959) is nominally set on this small island off Tanzania but might better have been titled "Going to Zanzibar" because it mostly takes place en route.
Karin McQuillan wrote a series that brings Kenya up to the near present. Deadly Safari (1990), Elephant's Graveyard (1992), and Cheetah Chase (1994) feature American heroine Jazz Jasper who comes to Kenya to escape a failed marriage and starts her own safari company. Like Jade del Cameron, Jazz does a little P.I. work on the side, which is one way she gets involved in solving murders. The books generally concern the plight of endangered species vs. the usual suspects—poachers, developers, the idle rich, and crooked politicians.
After I left Kenya (figuratively), I moved farther afield with my reading safari—a word that I learned is Swahili and means "camping". My next stop was South Africa, a country with an even older European presence than Kenya, and one more extensive and fractious. The British, Dutch, and native populations have been struggling for control in South Africa for 350 years, providing fertile ground for mystery writers.
So I camped out in South Africa for a while, starting with Malla Nunn's excellent first novel, A Beautiful Place to Die (2009). It's 1952 and repressive new apartheid laws have recently been imposed by the ruling National Party. A Johannesburg detective is sent to a rural town to investigate the murder of a local police chief, but finds his efforts blocked by heavy-handed Security Branch men determined to find a political motive for the killing. Nunn's sensitive novel lays out the complex arrangements that circumscribed the lives of English, Boer (Afrikaner), Indian, Negro, and mixed-race South Africans. Officially the rules were followed, but in the real world people made accommodations. To live was to lie.
Johannesburg-born James McClure's eight-book series is also set in apartheid South Africa. The Steam Pig (1971), The Caterpillar Cop (1972), The Gooseberry Fool (1974), Snake (1975), Rogue Eagle (1976), The Sunday Hangman (1977), The Blood of an Englishman (1980), and The Song Dog (1991) all feature CID Lt. Tromp Kramer and his Bantu assistant, Mickey Zondi. In the fictional city of Trekkersburg in the Orange Free State, the white Afrikaner and his black assistant create a practical collaboration to sort out crimes in a society impossibly split along racial lines. His books have won both Gold and Silver Dagger awards from the Crime Writers Association.
An unlikely writer to produce a South African mystery is Swedish author Henning Mankell. The White Lioness (1993) uses the ploy of a Zulu hit man recruited to kill recently released Nelson Mandela and sent for training to Sweden, an out-of-the-way place where he should escape detection. Action alternates between Sweden and South Africa, with Kurt Wallender investigating a related local murder and South African police following up rumors of an assassination.
A wonderful discovery was Deon Meyer's series of crime novels set in the current day. Written in Afrikaans and translated into English, all his thrillers center on strong men who are trying to reclaim their lives. Dead Before Dying (1996) and Dead at Daybreak (2000) feature current and former police officers of the Murder and Robbery Squad. Heart of the Hunter (2002) and Devil's Peak (2008) follow a former Xhosa mercenary as he tries to redeem himself. Blood Safari (2009) features a bodyguard with a past he tries to forget. Through well-written and nuanced protagonists and a continuing cast of minor characters, Meyer deals with South Africa's challenges from a variety of perspectives. Frequent references to the country's modern history and its players, organizations, and collaborators shed welcome light on this fascinating and turbulent tip of the Dark Continent.
After South Africa's painful complexities, it was time to enjoy the simple life. Alexander McCall Smith's No.1 Ladies Detective Agency series was just the thing. Currently numbering eleven books, Precious Ramotswe and her friends and family create an oasis of charm in their corner of Botswana. To Mma Ramotswe's thinking, her wonderful country should serve as a model for the rest of the world. In her detective work she is a Miss Marple of the Kalahari Desert, using her insight and knowledge of people to solve local mysteries. Along the way she finds practical solutions to tricky moral issues.
Also set in Botswana are two police procedurals by "Michael Stanley", the pen name used by South Africans Michael Sears and Stanley Trollip. A Carrion Death (2008) concerns greed arising from local diamond mining, and The Second Death of Goodluck Tinubu (2009) involves two missing tourists, with flashbacks to 1979 during the Rhodesian Civil War. Like Mma Ramotswe, their detective David "Kubu" (hippopotamus) Bengu is "traditionally built" and enjoys a warm, loving home life. But the books themselves are more mainstream and darker, with gruesome murder scenes and complex plots.
Moving north from Botswana, I visited Zambia courtesy of author Dorothy Gilman. In Mrs. Pollifax on Safari (1976), the grandmotherly spy is sent on safari with an assignment to snap pictures of her travel companions, because one of them is an assassin who plans to kill new president Kenneth Kuanda. She returned to Africa briefly in Mrs. Pollifax Pursued (1995) and again in Mrs. Pollifax and the Lion Killer (1996) but I didn't go with her. These visits were to the fictional country of "Ubangiba", supposedly a small impoverished country subject to coups. Ubangiba might have been almost anywhere and I like to know where I am.
Getting my bearings wasn't a problem with Jeremy Duns' highly suspenseful Free Agent (2009), set in 1969 Nigeria. It tells the story of double agent Paul Dark, who races to Nigeria to keep his identity from being blown and gets involved in remnants of the Nigerian/Biafran Civil War. This spy thriller is complete with KGB agents, beautiful seductresses, and a well-researched period backdrop.
My last stop, and another high point of my safari, was Ghana. In Kwei Quartey's excellent Wife of the Gods (2009), protagonist Darko Dawson is a CID homicide detective based in the capital, Accra. He travels to a small village at the edge of the jungle to investigate a young woman's unexplained death. Coincidentally, it's the village where his mother was born, and where she disappeared eighteen years earlier. The two mysteries intertwine. Darko frequently runs up against the power wielded by traditional healers and damaging belief in superstition and witches. The author's credentials as a native-born Ghanaian give this book a rare authenticity.
My armchair traveling through Africa both entertained and educated me. I learned some geography, reflected on history, and got to know a bit more about how people in other countries live. I found the same motives for crime and murder as anywhere else—jealousy, greed, pride, power etc.—with local permutations affected by the delicate balance among races. All authors get high marks for description, with the exotic African setting becoming a major character in nearly every book.
---
Verna Suit lives in Silver Spring, MD. She regularly reviews mysteries for Mystery Scene, I Love a Mystery and Mystery Readers Journal.
---
Random Violence
by Jassy Mackenzie (Kyalami, South Africa)
I was carjacked at gunpoint in my driveway on a winter morning in July.
It was a beautiful day. Crisp, cold and sunny, as it always is in Johannesburg at that time of year. I'd stopped to pick up the local newspaper lying by the gate and I was sitting in the car, the heater humming and the sun blazing down on the roof, scanning the front page article.
Jo'burg is a dangerous city. Living there comes with a price, and the price is constant vigilance. For a few crucial moments I forgot this fact, and I paid for my mistake. I sensed a movement by the window and had only enough time to think—What are two guys doing beside my car?
Then I saw the leading man's hand was clenched around a steel grey gun. He lifted it and aimed it straight at me. I reacted by doing entirely the wrong thing. I stamped down on the accelerator. All I could think of was the illogical imperative to get away—even though, in the confines of my driveway, "away" was a nonexistent concept, and I had nowhere to go.
In any case, I wasn't fast enough. They stayed with me. The leader yanked open the driver's door, the car stalled with a jolt, and then time telescoped into a cacophony of shouting voices and clutching hands. I was desperate to get out of the driver's door, away from the men with their tight fingers and their unsteady guns. But the hijackers had rehearsed a different maneuver. The other man pulled open the passenger door and wrapped his hands around my throat. I heard myself start gagging, and thought, for one dreadful moment, that he was going to strangle me.
He didn't. He dragged me backwards, fast, across the seats and out of the car. I sprawled butt-first down onto the sandy ground and then, finally, he released me. Leaning forward, he grabbed the gold chain I wore, and ripped it off.
"Where's your rings?" he asked me. "I want your rings."
Breathing hard, I stared up at him. "Do I look like I'm married?" I said incredulously.
The answer seemed to satisfy him. Turning away, he climbed into the car and slammed the passenger door. The engine started up and I heard gears grinding as the driver battled to engage reverse. I wasn't going to wait for him to get it right. I turned my back on the hijackers and walked down the driveway towards my house.
It's a horrible feeling walking away from somebody with a gun. I could feel a burning spot in the centre of my back. I prayed they wouldn't shoot before they drove away.
They didn't.
Memory is a funny thing. By the time I reached my house, I had forgotten most of what had happened. All I could remember, all I could tell people when they asked why my neck was so red, was that my gold chain had been snatched.
The memory came back a few weeks later, unexpectedly, in a terrifying rush. Suddenly I remembered his hands around my throat. God, he'd actually done that to me. I didn't know what was more frightening, the strangulation, or the fact that my mind had blanked it out. What else had I forgotten? Would I find more unwanted memories flooding back?
Nothing came, but in the months following the carjacking, I grew fearful. I lay sleepless at night, listening to the noises outside. A thump on the roof, a rustle in the bushes. Sitting bolt upright in the darkness, my heart pounding, I strained my ears, expecting to hear the splintering of the front door being forced open with a crowbar.
I floored the accelerator if somebody approached my car while I was waiting at an intersection. The risk of an accident seemed small compared to the terror of being on the wrong side of a gun once again.
I started following news stories obsessively, desperate to hear about justice being done. There were plenty of carjackings out there. Plenty of random crimes being committed, but precious few arrests to go along with them. I read with horror about one man who hadn't been as lucky as me. His captors had forced him into the trunk of the car and taken him with them. Police found the car later, burned out, with his charred body still inside.
And then, opening the newspaper one morning, I discovered that the police had cracked the case. They'd arrested a suspect—the murdered man's wife. It turned out that she had organized it all.
That shocking revelation planted the seed of an idea in my mind. How often is violence in South Africa truly random? With our high crime rate and our overworked police force, are criminals able to get away with targeted murders more easily? The police had arrested one killer, but I started to wonder how many more were out there.
Soon after that, I wrote the opening scene of Random Violence. A single woman arrives home at night. She's struggling with a heavy gate when a sleek, dark car pulls up behind her own. The driver climbs out and aims a gun at his victim. He's not a scared novice like my hijackers were. He's calm, cold, experienced. As she begs him for her life, he shoots her twice, a skilled and accurate double-tap. The woman collapses and dies on the stony ground outside her farm gate without knowing who murdered her, or why… Or did she know?
I decided I needed to create a competent female lead to solve this mystery. There were heroines aplenty in the crime fiction I'd read over the years, but when I thought about it more carefully, I realized every leading lady that I could remember was gainfully employed. They might be police detectives, pathologists or lawyers, but they all had good steady jobs and were reasonably normal people.
I wanted to write about somebody different. I wanted a heroine who was a renegade. I wanted a lead who could handle a gun as naturally as breathing, and who had a mysterious past. More than that, I wanted her to have a dark side. As I started to create the character of Jade de Jong, I realized with a chill that I hadn't just created a renegade. I had created a killer.
Jade has some characteristics in common with me. She loves chili, she has a quirky sense of humor, and she displays a regrettable ignorance of local fauna and flora. Although she can tell a Beretta from a Glock at twenty yards in semi-darkness, she wouldn't know an ostrich from a turkey unless it ended up on her dinner plate. And she has other attributes that I don't share, and wouldn't want to.
I often think back to the morning of that carjacking, and I know exactly what Jade would have done if she'd been there. She would have played along until the man was leaning forward to snatch the chain from her neck. That was a tactical error on his part, and she would have taken advantage.
The man would never have touched her necklace. She would have grabbed his arm, yanked him off-balance, pulled him towards her so that he slipped and stumbled in the dirt. A knee in the groin, a jab in the eye, and then she would have had control of his gun.
Would she have killed the two of them? That's a question I often wonder about. They weren't actively trying to murder her, so she might have shown compassion. A bullet through each of their right hands, perhaps. Fired from close-range, punching through flesh and shattering bone. She would have made sure that neither man would ever be able to use a weapon again.
That's life in Jade's Jo'burg. It's a good place to be.
Jassy Mackenzie is the author of Random Violence, which was shortlisted for the Commonwealth Writers' Prize—Best First Book (Africa region). She has written the second book in the Jade de Jong series, Stolen Lives, as well as a stand-alone thriller, My Brother's Keeper. Jassy lives in Kyalami, Johannesburg, with her partner Dion, two horses and two cats.
---
Cape of Torments: Writing Crime in South Africa
by Margie Orford (Cape Town, South Africa)
If we were in a bar together, we'd be in languid Cape Town, sitting outside with seagulls drifting in an endlessly blue sky. Picture this. Between us is a bottle of iced Cape wine, just what you need on a day that's pushing ninety in the shade. Behind us is the brooding mass of Table Mountain; a rescue helicopter is working its way up and down the sheer cliffs, looking for yet another fallen hiker. A crisp white yacht slices through the ocean. Robben Island, where Nelson Mandela was imprisoned for nearly three decades, is nothing more than a dark ellipse on the horizon.
A pack of street children lurk, keeping out of reach of the head waiter's fist. Their faces are feral, but the outline of an abandoned infancy is evident in the rounded cheeks of the youngest. Their begging hands, the knives the older ones pull in an instant, are your reminder that this city—I would say the most beautiful in the world—is one of the most violent.
But, you say, refilling our glasses, adding more ice, South Africans, unless they are trying to kill you, are the nicest people in the world. So why write about crime? Why not just sit back and enjoy the view, the ease of life you can buy here for so little? It is easy to drink enough wine to forget the history that has woven South Africa's violent, vibrant social fabric. But I found that when I returned to live here either I couldn't drink enough, or I could not forget.
I had left South Africa in 1988 after a brief spell as a political detainee in one of South Africa's most notorious apartheid prisons. I went first to London, then Namibia and then New York City. But Cape Town, known as the Mother City, was always home. In 2001, I returned with my family, but the country I returned to was foreign to me. I felt besieged by its extravagant violence; I took it personally. Crime in South Africa is sexualised—we have the highest rate of rape in the world. I wanted to know why so many people wanted to kill me, to kill my daughters. It drove me crazy, this casual misogyny, how it silences a woman, keeps you captive in your home or your locked car. The barricaded suburbs don't do it for me. I needed to find a way to live here; I needed to understand who was doing what and why. I am an investigative journalist, so I know what to do with a question that bugs me. I go to look for answers.
So, I turned to crime.
Reporting on gang initiations, special police units, rape crisis, organised crime, the sex industry. I interviewed cops, pathologists, ballistics experts, crime survivors, victims, their heartbroken relatives, and the moral dislocation at the heart of my beautiful and beloved country. As a journalist, you can list a series of checked facts, something that irritated me increasingly because I felt as if I was missing the heart of the story in each article I wrote.
So, I decided to write a crime novel. It was a revelation to me: Instead of wringing my hands at the way South Africa, the famed Rainbow Nation, was meant to be, I found a way to write about how it is now. I found that in fiction I could get to the truth.
What is the relationship between truth and fiction?
All my novels have their origins in my responses to particular, real crimes. A series of murders, the abduction of a little girl, killings that mask the political truths of this country, a series of brutal rapes. Although none of my books are about those crimes in any literal, true-crime way, they are responses to the violent ruptures these crimes represent, to the resilience of survivors, and the tenacity of the people who care enough to bring violent people to account for themselves.
Crime fiction has surprised me in its flexibility and in how it works for the country that is embedded, like a stray bullet, both in my head and in my heart. In all countries, but in South Africa particularly because of our segregated past, cops and journalists are the only people who can plausibly navigate this fractured and stratified society. And these flawed and morally challenged individuals are all we have to put things to rights.
And that is how Clare Hart came into being. She is smart, sassy, and street wise. She is also an investigative journalist with a PhD in femicide and sexual murder. And her sometime lover, the handsome and spontaneous Captain Riedwaan Faizal of the South African Police Service hires her as a profiler on complex cases. The fact that it keeps her close to him is an added bonus—dangerous situations often make for serious chemistry between people.
Clare Hart allows me to navigate both inside and outside of the law enforcement establishment. This has given me a great deal of flexibility to write about the police—often expected to act as armed social workers in volatile and impoverished settings—with a critically empathetic eye. It has been challenging developing a way in which a plausible female lead can operate in such a chauvinistic country. Sexism is rife and many places are very dangerous for women. Sometimes I can send Riedwaan Faizal to these places. But often Clare Hart has to, as I have, find a way of going there herself.
Southern Africa is known for its feisty take-no-shit type of women though, and that is where Clare Hart fits in. She makes different kinds of connections with people, she sees different kinds of things. Women trust her, kids trust her and it is often the weak and vulnerable who know the truth about the powerful gangsters who dominate their lives. These are the people Clare connects with. And as easily, she can move through the frequently corrupt upper echelons of society. One of the great advantages of living in a sexist society is that often, as a woman, you're invisible. If you're smart, you can turn this to your advantage. And that is what Clare does.
She's tough, she's fit but she doesn't carry a gun or have a karate black belt. She has great emotional intelligence and her reputation as an ethical and trustworthy journalist stands her in good stead. She has empathy, street smarts and a razor sharp mind which makes her brave without being foolhardy. She also has what many women have—a strong sense of intuition that she channels into her scientific expertise.
She and her partner, Riedwaan Faizal, are moral people—they might not always do what is legal, but they do what is right. It might seem old-fashioned to be thinking of writing in terms of morality. Indeed, to think of society as a whole in terms of morality seems out of date. But crime fiction can be a comfortingly moral form. And you can get the bad guys. Writing crime has brought me a sense of peace about living in the most murderous city in South Africa. This is because I have got under its skin—through the medium of Clare Hart—and have seen its darkest recesses, its most closely protected dreams, the hurt hidden inside even the most violent of men.
Where does one go from there? you ask. How does it help to understand that some killer was knocked about—like these street kids who are swarming around our table because the waiter is inside fetching us another bottle of wine. Do you let them loose with a couple of therapy sessions?
In the realm of true crime, there is rarely resolution, peace or full recovery from the violence endured by the victims. There is imprisonment (if one is lucky) of the perpetrator, and for the survivors the caging in of that experience, the incarceration of memory so that it is kept hidden in a place where you pray it never leaks back into the conscious mind. Crime fiction offers a way of telling an emotional and moral truth, a forensic exploration of the physical, emotional and moral aftermath of South Africa's violence. But even in crime fiction there is a fork in the writing road.
Do I, as writer, take you the reader down the path of the slasher flick, ever deeper into titillating spectacles of violence? Or do I take the road travelled by writers like Elmore Leonard, John Lee Burke, Michael Connelly, Ian Rankin, South Africa's Deon Meyer—in my view the "good" crime writers—towards an understanding and a catharsis of violence, the punishment of the perpetrators and an at least temporary restoration of order?
I have worked with maximum security prisoners, teaching men with three or four life sentences, creative writing. I observed over the year that I spent with them how slowly, slowly the cogs of self-expression, of empathy, of understanding of others came to life. I am also the patron of an organisation called Rape Crisis. I know how long it takes for a survivor to recover herself, her life, her will to live.
I think there has been enough violence in this deceptively lovely part of the world. So, I chose to write towards (a temporary and fictional) restoration of order. But on the way I will show you things that will chill you to the bone.
---
Margie Orford lives in Cape Town. Like Clockwork, Blood Rose and Daddy's Girl, the first three books in her Clare Hart series, have been widely translated and are published in the UK by Atlantic Books. Margie is currently busy writing the fourth, Blood Rose, set in Namibia, which is in development as the pilot film for a potential television series.
Buy this back issue! Available in hardcopy or as a downloadable PDF.